In this Printify Review I'll go over the basics of the platform, both pros and cons. The links on this page are affiliate links, however this will not affect my opinion. I have been successfully selling online using POD platforms for over 5 years now, I have been using Printify (almost daily) since 2017, hopefully this article is of some help to you.
---
What is Printify
Printify is an online platform and web app that connects POD store owners with print providers all over the world. However, they are mainly focused on the US and to a lesser extent, the EU.
Founded in 2015, they offer a large collection of products, spanning a range of different product categories. Mainly focusing on clothing, simply because clothing is the most popular for both store owners and their customers.
Printify does offer a design tool, however it is pretty basic and only allows for image uploads and text. You are better offer designing your items in an app like Photoshop, Illustrator or a web app like Canva.
---
Who is Printify for
Quite simply, Printify is for business and individuals that are looking to start their own business selling items such as, clothing, mugs, home decor and more.
They take the hassle out of the actual product creation/manufacturing step. By connecting you with a print provider, they help take your design from, well, just a design into a fully completed product that is then directly shipped to your customer.
Why print your own shirts when you can just use Printify. Which leaves you with more time to think of and create new designs.
Anyone can use printify, you can either use it without connecting any store such as Etsy. Or you can easily connect different services to fully take advantage of Printify's service.
"If anyone can use printify, then how can I make money using it??" I hear you cry. Good question, and a question that is easily answered. Most people don't want to design their own clothing, and most people don't have your print files available to just send to Printify.
Your aren't really selling an item, you are selling your design on an item.
---
What do Printify Do
Printify don't actually do any printing themselves, they are simply a website connecting you to print providers. They provide an easy to use platform for product creation and publication, an order management system, customer support and Printify provides access to 100s of different products from all around the world.
Printify definitely do take a cut, however they are not transparent in regards to this. I don't know if they take a cut from the print providers, or if their cut is already baked into the product pricing that you pay.
---
What products do they sell
As previously mentioned in this post, they mainly focus on clothing as this is the most popular category. They sell everything you would expect in this regard, t-shirts, sweatshirts, hoodies, vests and even more niche POD clothing such as sportswear, swimming wear and even shoes.
Apart from clothing, their other best sellers are posters, notebooks, pillows, hats, stickers, socks and tote bags.
Less popular items they sell include blankets, phone cases, underwear, mugs, bottles, stickers, towels and dog neckerchiefs. I could go on, but there's no point me listing all the products they sell when you can just go take a look yourself.
---
Sign up process
The sign up process is very simple. It's just a case of providing your details on their sign up form and creating an account. There's no hoops to jump through, nor do they need to approve your account or anything. Once you have an account, you're ready to go. Well, you have one decision to make, to premium or not to premium.
---
How Printify works
So how does Printify actually work? It's quite easy actually, simply choose an item to sell. For this example and to keep things simple, lets choose a T-Shirt.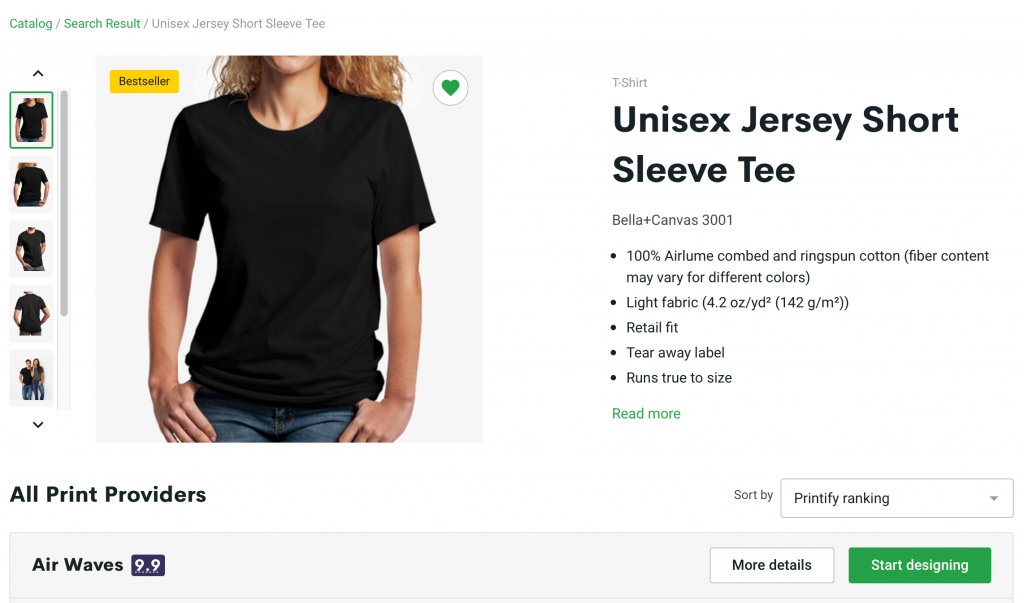 You would then choose a print provider who will be in charge of the production and shipping of this T-Shirt. More on how to choose a print provider later.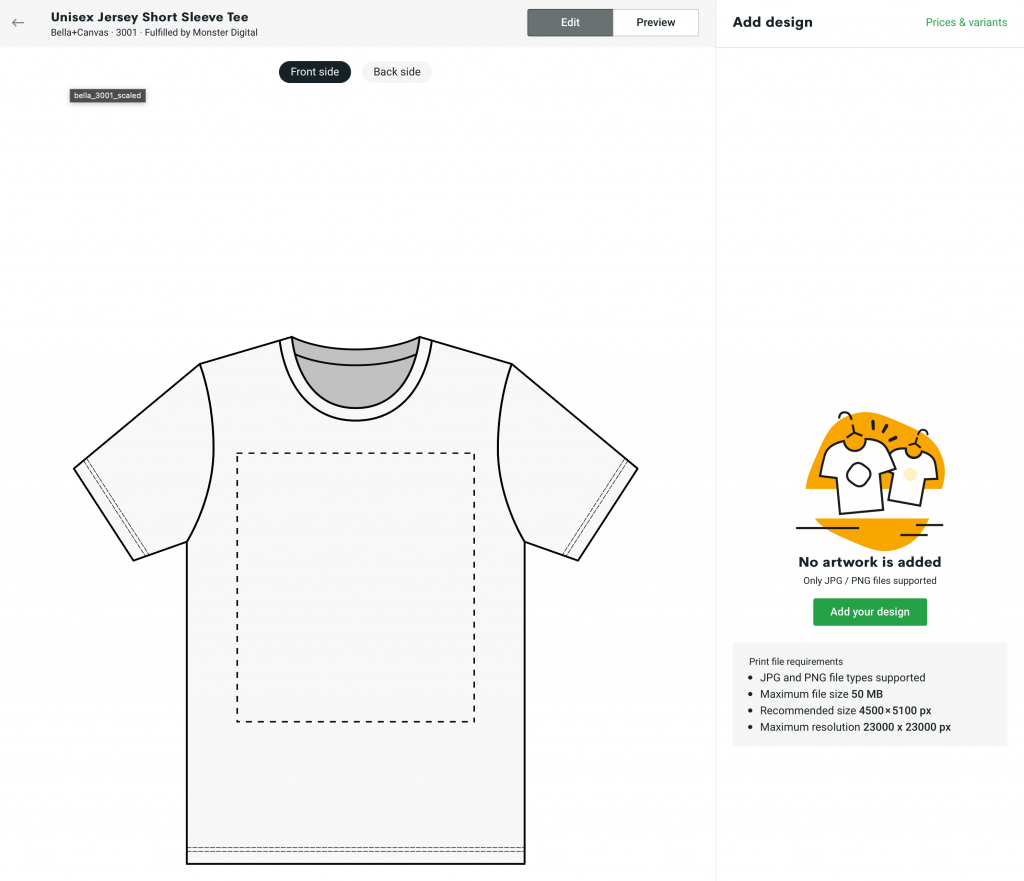 Once you've selected which print provider, you then enter the design creator. Now if your design is super simple you could get away with just designing it in here.
However I would highly recommend that you design outside of Printify. Mainly as this will normally produce a better design, but it also reduces your reliance on Printify, which if you're in this business seriously, you'll want to reduce your third party reliance as much as possible. Or at least keep you options open.
Here you also select any sizes and any colors you want to sell the shirt in, please remember that giving your customers more color choices is not always a wise choice.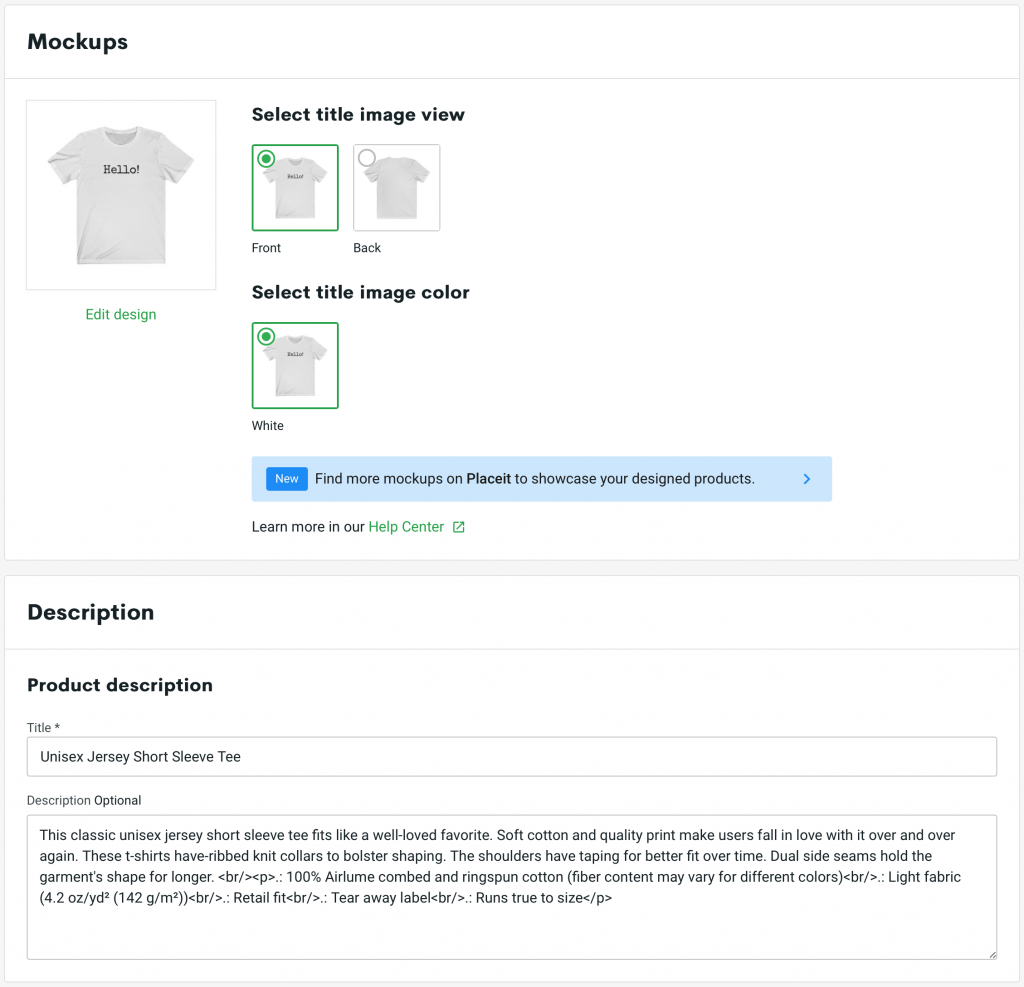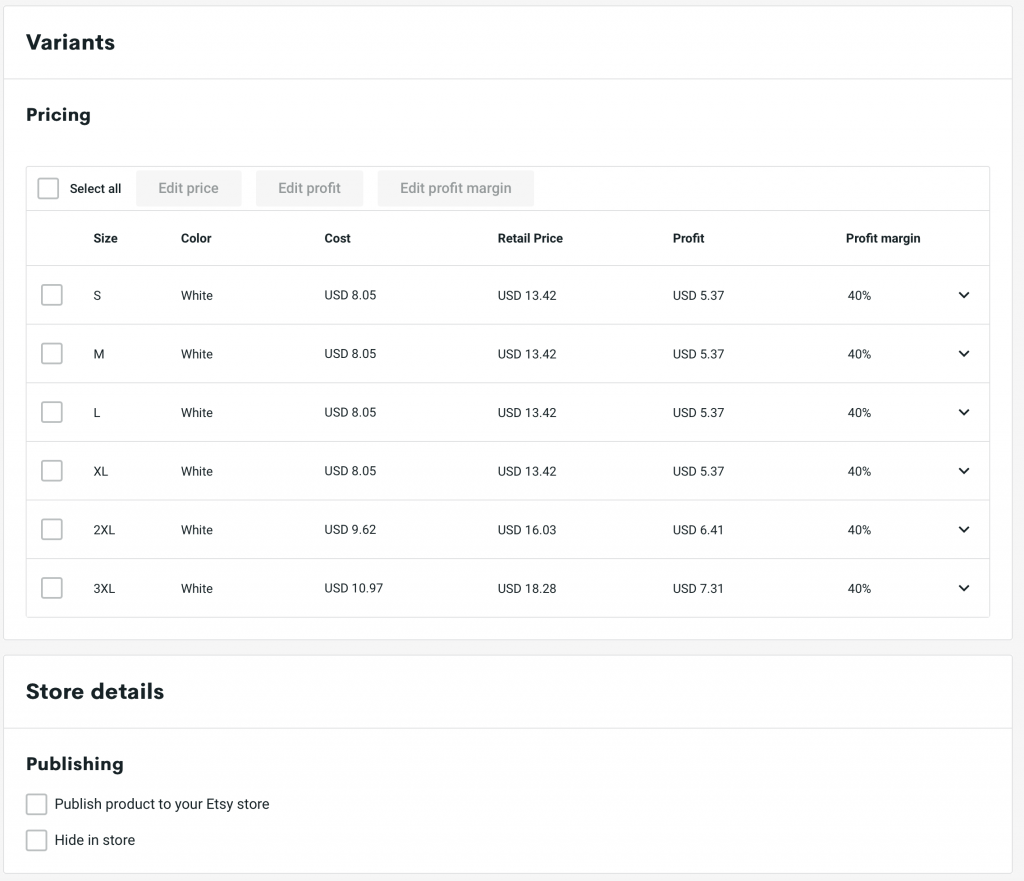 Next, and this is where is can differ depending on if you have connected a store or not, if you have you can then edit your listing, set your pricing and publish the shirt to your store, here Printify will automatically set the shipping rules up for you.
If you have no store connected, then the shirt is just saved to your Printify account and you'll need to manually place orders yourself.
That's it really, there's not much else to it. There are more advance tips, like SKUs, but I'll save that for another article.
---
Premium vs Free account
Printify Premium is, if you pay yearly, $24.99 per month and gives you up to 20% discount on the listed prices.
This is definitely worth the cost, especially when you start getting sales, it simply means you can either make more profit per sale, or you can compete with other sellers on price.
Below is a table comparing some products and their pricing, free vs premium. As you can see, the $24.99 per month is definitely worth it.
| ITEM | FREE ACCOUNT | PREMIUM ACCOUNT |
| --- | --- | --- |
| Bella + Canvas 3001 (Monster Digital) | $ 9.21 | $ 8.05 |
| Gildan 64000 (Monster Digital) | $ 7.19 | $ 6.61 |
| Gildan 18500 (Monster Digital) | $ 17.58 | $ 13.54 |
| Gildan 18000 (Monster Digital) | $ 14.63 | $ 11.26 |
| Velveteen Blanket (SPOKE) | $ 14.18 | $ 10.92 |
| 11oz Mug (District Photo) | $ 4.40 | $ 3.39 |
Printify Free vs Premium account pricing.
Another feature of Printify's premium account is the ability to have up to 10 stores per account, which will come in handy if you want to create a store per niche. We'll export this more in future articles.
Printify do also offer another teir, but this is reserved for huge stores that have over 10,000 sales per day.
---
Best Print Providers
This is something that we are going to be going in depth with in future articles, in fact this going to be an entire series of articles, reviewing each and every print provider. Please do let us know which print providers you would like to see reviewed. The article will be updated when the reviews are published.
I have only personally used a handful of print providers that Printify offer, Monster Digital, MyLocker, Dream Junction, SPOKE, T-Shirt and Sons. Therefore I can currently only offer my opinion on these. As of the time of this article, I can recommend Monster Digital for clothing and SPOKE for accessories, mainly down to the production speeds and final product quality.
Print providers Mini Reviews
Monster Digital – Best print provider for clothing in my opinion, prints are bright and colorful, production times are usually under 2 business days. The only issues I've had with Monster Digital is sometimes they apply the print wonky, but Printify will always provide a reprint for these.

MyLocker – I would avoid currently, the production times are quite long, around 5 business days and the print quality is not the best.

The Dream Junction – These used to be my go to print provider, their production times were low, print quality was great and their pricing was one, in not the lowest. However ever since the Pandemic happened they have never been the same. Products constantly out of stock and inconsistent production times. I would currently avoid.

SPOKE – I use these for blanket mainly, but they have been great. Final product quality is great, production times are short and I've not had one complaint from customers, even after 100s of sales.

T-Shirt and Sons – I used to use these when I marketed to the UK market, since T-Shirt and Sons are UK based. They were okay, production times low (except for Christmas) and good print quality. Would recommend if your are selling to the UK.
---
How to choose a print provider
Getting the print provider right before you start your business will save you a lot of issues in the future. Believe me, it's not an easy task switching print providers, Printify do offer a tool to switch print provider, unfortunately it's still a very manual process.
To choose a print provider, first you must decide which market you are going to be marketing to. The US? the EU, Canada? I would recommend marketing to the US as they currently have the biggest audience and the most print providers.
Once you've chosen a market, this will narrow your options down.
Now you need to decide what products you are going to be selling, try choosing a print provider that has all the products you want to sell as mixing print provider is defiantly not recommend, mixing will cause shipping issues for you and your customers.
For example if a customer orders 3 different items from you, and they are from 3 different print providers, you'll have to pay shipping 3 times, which will erode your profits.
Now you should be left with just a handful of providers. Order a sample from each, and make your final decision on how the sample turns out.
---
Ordering Samples

To order a sample, simply click the "Get Samples" button on the order page.
Choose products that you've previously created from your chosen print providers, and checkout. Your address should already be filled in.
Unfortunately Printify do not offer any discounts for sample orders, so you're forced to pay the full price. Now you just need to wait for your samples to arrive in the post.
---
Best items to sell
T-Shirts. These will almost always be a best seller for most stores.
The Bella + Canvas 3001 is the best Unisex t-shirt, simply because they contain polyester, which produces a better print and because they are super soft t-shirts that customers love.
A good, and cheaper alternative to the 3001 is the Gildan 64000, similar to the 3001 the 64000 is super soft and the fabric accepts prints well.
The other clothing items I would recommend are Sweatshirt and Hoodies, Gildan 18000 and Gildan 18500 respectively. These are available across multiple providers and are a good balance of quality and price.
I have tried Long sleeve shirts before and they never really sold that well, the same goes for tank tops. But that doesn't mean you shouldn't try, maybe my design just don't go well on these items.
Other items that always do well for me are Mugs, Phone Cases and Blankets.
---
Product creation
To create an item you'll of needed to have created an account and either linked a store, or created a store in Printify. Now navigate to the "My Store" page, you'll be directed to the catalog, where you can now select an item, we'll select the Bella + Canvas 3001 t-shirt.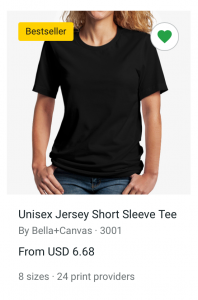 Click the "Start Designing" button with your chosen print provider.

Click "Add your design" to either upload your art file, or to add text.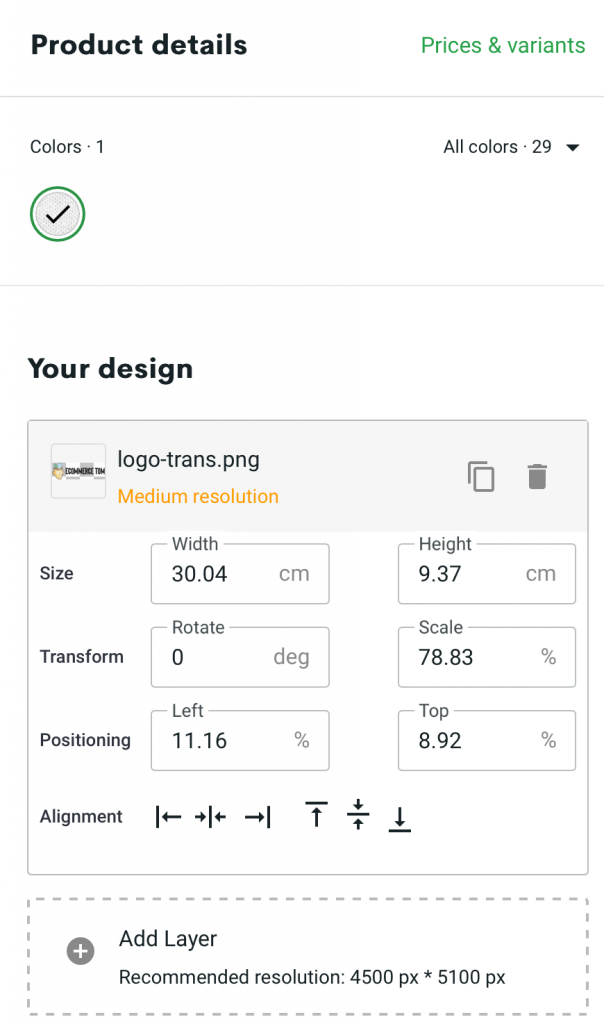 You can now select the sizing and colors that you want to list, don't just select them all, make sure the design goes with the selected colors and don't be afraid to limit this selection to just a few colors.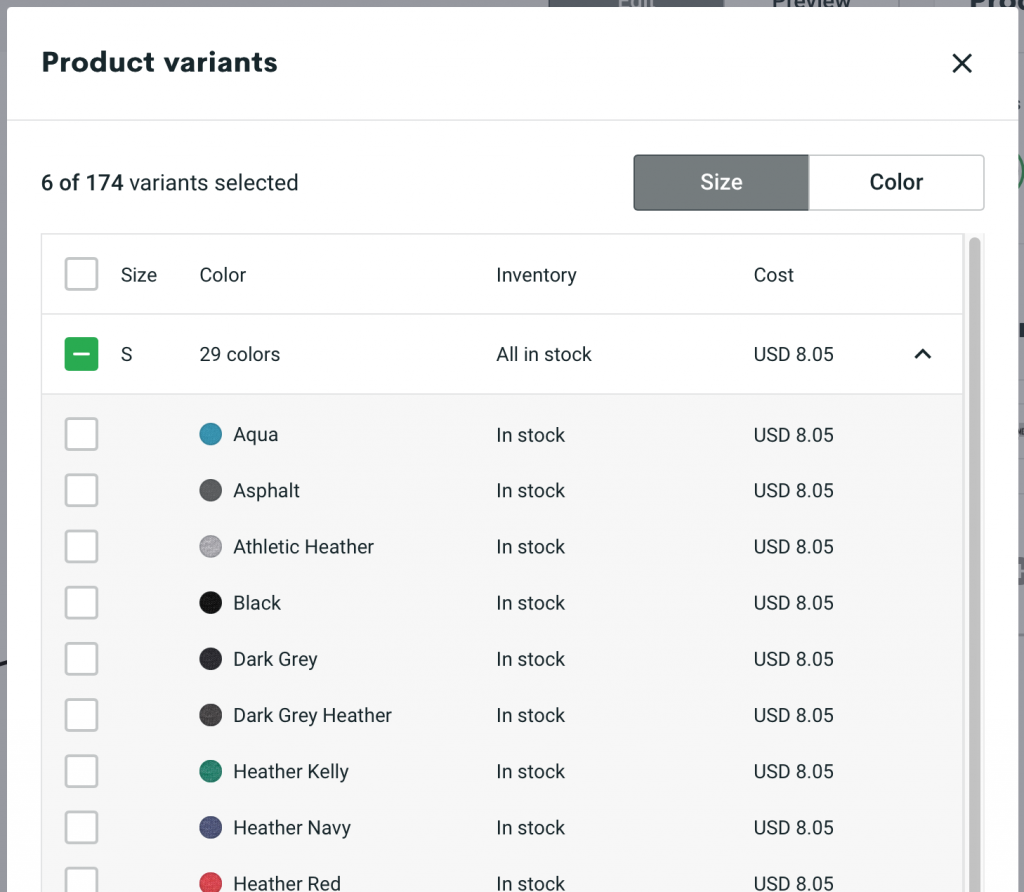 Click save and you'll be directed to your "My Store" page where the t-shirt will be, click "Edit Listing".

You can now enter the name of your product, the description, the pricing/profit margin and select if you want to publish it or not.
Simple!
---
Integrations
Printify do offer a number of integrations, to date I have used 3 of their integrations, Etsy being the main one.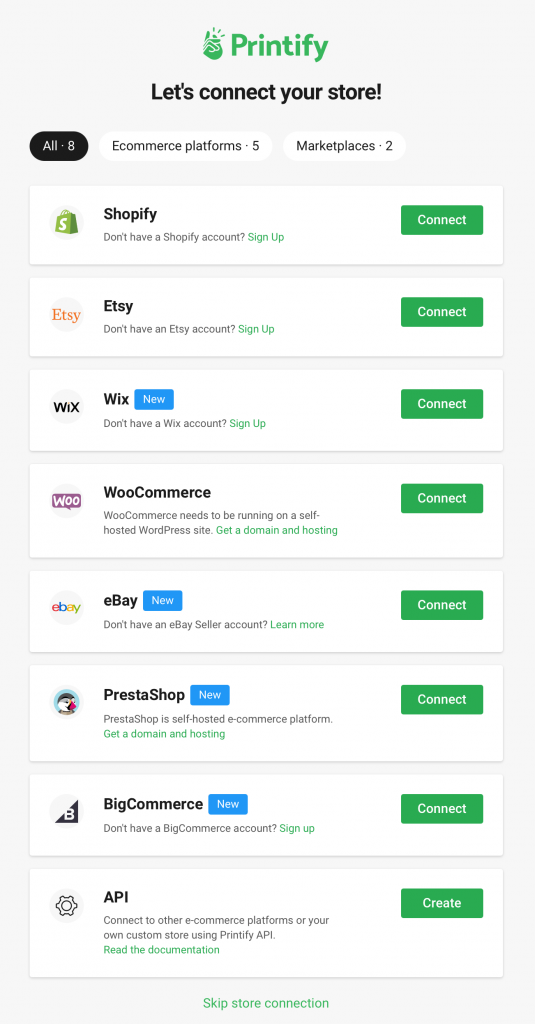 As you can see from the above image, Printify connects with Etsy, Ebay, Shopify, Wix, Woocommerce, PrestaShop and BigCommerce. You can also select API or no integration.
The process is usually very easy and straight forward, however we did have issues trying to connect our Ebay store. It was all sorted out in the end, with help from the Printify support team.
---
Order process
How you process orders will depend on if you have connected a store or not, I'll give a shirt explanation of what you can expect.
If you have connected a store – Once a customer places an order with you on, for example Etsy, and the ordered item was created and published with Printify, then the order will get imported and will appear in the "Orders" page.
If you have set order approval to manual, then you will need to click the fulfil button, for your order to be submitted for production. But if you have set order approval to Auto, then your order will get automatically sent to production without you needing to do anything.
If you have a connected store, but your items are not connected – Once you receive an order, you can head to the orders page and enter the "Other orders" tab, here you will find all your stores orders where the products are not connected to Printify.
Here you can manually find the products to assign to orders, and manually import the order. The rest of the process is the same as above.
If you have no connected store – When a customer places an order with you, you will have to manually go into the order page and click the "Create order" button and manually fill in the ordered products and the order info.
Once you've filled everything in, you simply click "Fulfill order".
---
Order routing
Printify's order routing feature was something they introduced during the first few months of the pandemic, in response to some print providers temporary closing or facing stock issues.
This is a mostly great feature, however I do keep this feature turned off as I like to control which print providers I use.
The order routing feature is simple, if an item that someone has ordered from you is out of stock, or the print providers is too busy to fulfill the order, the order will get routed to a different print provider. You will be charged the cost of the order from the new print provider, however you can set limits on how much extra you are willing to spend. Unfortunately you can't blacklist print providers, so your order could end up getting sent to a print provider who may be lower quality – hence the reason I leave this feature turned off.
---
Profit margins
I thought it would be useful to give you some example expected profit margins when using Printify as your POD supplier.
T-Shirts retailing at $20 with $4 shipping using Monster Digital with a premium account
| Item cost + shipping | Item retail + shipping | Profit |
| --- | --- | --- |
| $ 12.05 | $24 | $ 11.95 |
Sweatshirts retailing at $25 with $8 shipping using Monster Digital with a premium account
| Item cost + shipping | Item retail + shipping | Profit |
| --- | --- | --- |
| $ 19.26 | $33 | $ 13.74 |
Hoodie retailing at $30 with $8 shipping using Monster Digital with a premium account
| Item cost + shipping | Item retail + shipping | Profit |
| --- | --- | --- |
| $ 21.54 | $38 | $ 16.46 |
Of course, your profit margins will be different depending on who you choose as a print provider, which marketplace you sell on, what prices you set, if you have a premium account or not and your operating costs. But this is a good guide just to give you an example.
---
Extra Tips
Change you ship from address
Go to the manage stores section of your account, and next to your store name click the cog icon. Then navigate to "Ship from address" in the sidebar.
Change the address in here to your own, either home, business or warehouse address.
Why? Simply because if there is an issue with the shipping address, the order will be returned to the ship from address.
Printify do handle returns to some extent, however it not very reliable and is super slow. Not only that but the cost to reship is very high.
Hence why I would recommend you change the address to your own.
Turn off shipment tracking emails
For some reason Printify think you want to be notified about every order that is shipped, leading to hundreds of emails a day in your inbox.
Go to your store preferences to turn then off, all the tracking info is on Printify any, I'm not sure why you would need it all emailing to you.
If you use Etsy, declare it!
I'm not sure if the process has changed since I did this, but both Etsy and Printify charge US state sales tax. To save you getting double taxed, you need to fill out a form to declare that you are using Etsy and Etsy remit the sales tax on your behalf (with they do).
This means that all orders that come from Etsy won't then have Printify charging you the state tax.