As I have recommended Gelato POD in the past, and this website still lists them as a recommendation. I feel the need to post this as a warning.
On November 17th I was processing my orders as I do everyday. One customer required me to manually edit their personalised order. Upon trying to edit their order I was greeted with this popup: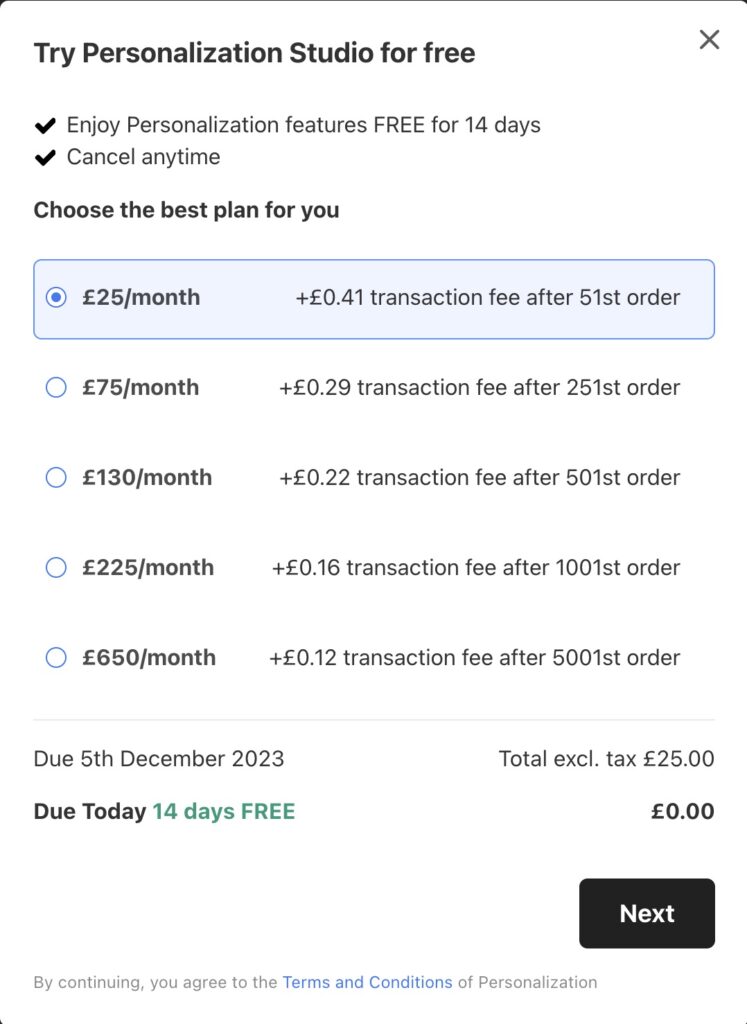 Just to give you a quick background on this, the Gelato personalisation tool was a feature included with their Gelato+ subscription, which I am paying for. And gives you the ability to let customers customise their orders without you having to do any design work.
It is a really good feature, but I have found that it causes confusion with some customers. I'm currently using the feature with Etsy, and get a couple of orders every week. (So this is not a massive deal to me, luckily)
So going back to the popup, I went back to check that I was still subscribed to Gelato+. Yep, everything looked fine, I was still being charged for Gelato+.
I then saw I have an email from Gelato: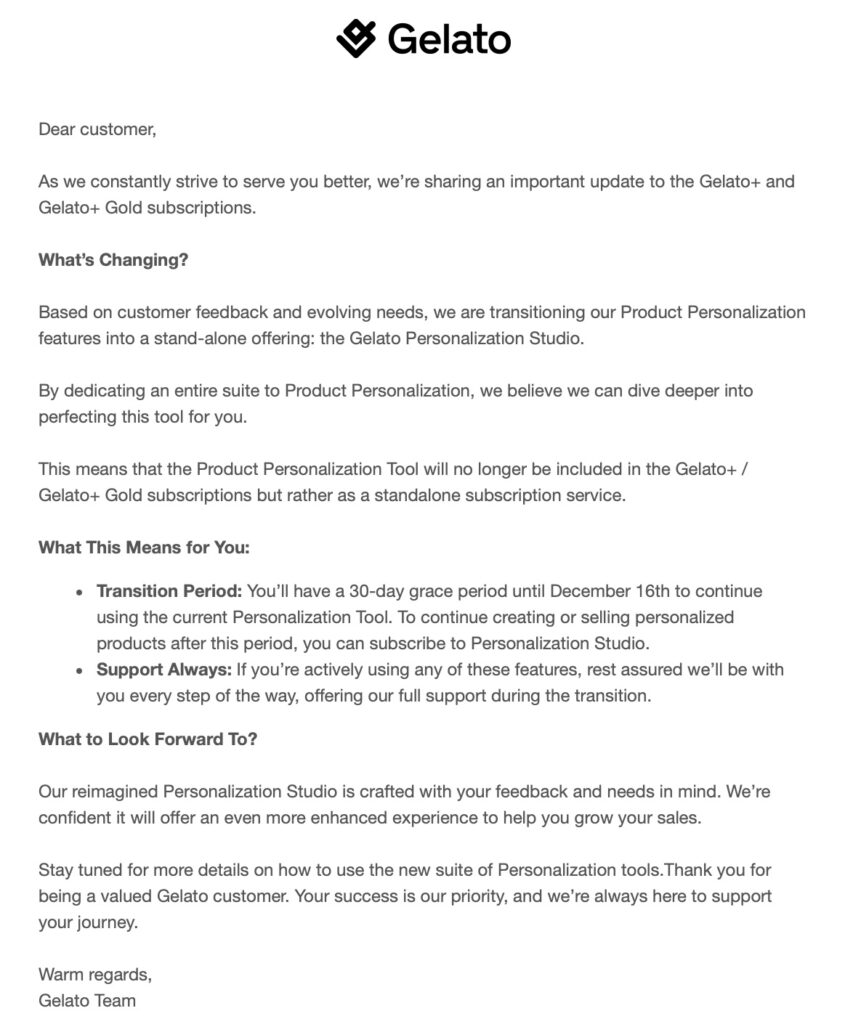 So they are removing one of the main features of why I was subscribed to Gelato+, and making it a separate subscription which includes per transaction charges.
Not only that but their email states that I should be getting a 30-day grace period. Nope, the only option I have is to sign up to a 14-day free trial. For a feature that I was using as part of my subscription yesterday.
Even if I was actually given the 30-day grace period, this doesn't feel good to me.
Not only are they dramatically changing a feature, and charging more for it, they are also doing it at the busiest time of year (Q4).
This feels like a quick cash grab.
Imagine if you had setup your entire POD store based around Gelato's personalisation tool, for them to suddenly start charging you more for a feature you've been using for months/years.
You'd have no choice but to pay. Potentially up to £650 (~$800), depending on how many orders you're doing.
Luckily this wasn't a large part of my business, so I've had to remove the listings from my store and rework a couple of others. Definitely something I needed to be doing in the middle of Q4.
The email they sent out should have just been an announcement of the change, and they should have given us until January 2024 at the earliest for the change to take effect.
Pricing
Gelato+ was $14.99 a month and gave you access to their personalisation tool among other things.
The new standalone pricing JUST for the personalisation tool starts at £25 (~$30) per month and then after 50 orders cost an extra £0.41 (~$0.50) per order!
This whole thing has left a bad taste in my mouth. And as someone who has spoken/written positively about Gelato in the past, has left me very disappointed in the company and the direction they appear to be going down.
Take this as a warning, don't base your entire POD business on one company.