Our Awkward Styles review is also available as a video, if you'd prefer to read, just scroll past the video to continue the written review.
Today we'll be taking a look at another one of Printify's print providers, Awkward Styles.
Disclaimer: Printify have supplied me with these shirts free of charge. However they haven't sponsored me, the video or this post, nor is this going to change how I do the review. I will still be just as honest as before. They have also given me a promo code to share. The code will give you 30 days of free Printify Premium. I believe the code expires at the end of August 2022, so if you're reading this after then, it may have already expired.
To get the 30 days free head over to Printify using this link and then enter the code "ecommercetom" in the coupon code field under your account. 30 days will then be applied to your account. This code should work for new and old accounts.
Now on with the review!
Awkward Styles Review
Awkward styles are a US based DTG printer, they are available on the Printify platform but they do also offer their own website. As far as I can tell they ship all their items from their location in California.
On Printify, Awkward styles have exactly 50 items at the time of making this review. All items being clothing if we ignore the baby bib. They definitely have one of the largest product selections on Printify.
Production & Shipping Times
So since this was sent to me by Printify, I don't have the exact production times. But I do know that the order was placed on the 13th of May and the first tracking event was on the 17th of May, so production time was about 3-4 business days. Which looking at their average on Printify right now, seems about right. So they're definitely not the quickest print provider.
As I live in the UK I always expect the shipping time to be longer. However I'm always surprised with how quick the orders turn up. And this time is no exception. It took just 6 days to reach me, which is very good! For US orders they state their shipping times are between 2 to 5 business days.
Pricing & Profit
Looking at the pricing now. Each shirt would have cost me $10.33. Which is a little more expensive than other print providers i've reviewed. UK shipping would have cost $14 for both shirts. This is with an active Printify Premium subscription.
If we were to sell a shirt to a US customer, with free shipping for $25. Using Awkward styles as the print provider would leave us with $9.87. Of course this doesn't include any marketplace fees or taxes.
Print size & Mockups
The print size used for Awkward Styles is 3600 × 4800. It a bit narrower than other print providers, especially Monster Digital for example. However its perfectly fine and in person it doesn't actually look any noticeably narrower.
Comparing the mockups to real life, we can see that the mockups are pretty accurate. I think they have been printed a little further down than they show on the mockups. But thats the only difference I can see. Both prints look central and straight, so no complaints here.
UPDATE:
So while editing the video I did actually notice that the print on the white shirt was a little off center. I measured and its about 1.5cm too far over to the right. The black shirt is pretty much in the center though, its just under 0.5cm too far to the right. So while not massively noticeable, especially since I only noticed while editing the video, it is something to take into account.
Print Quality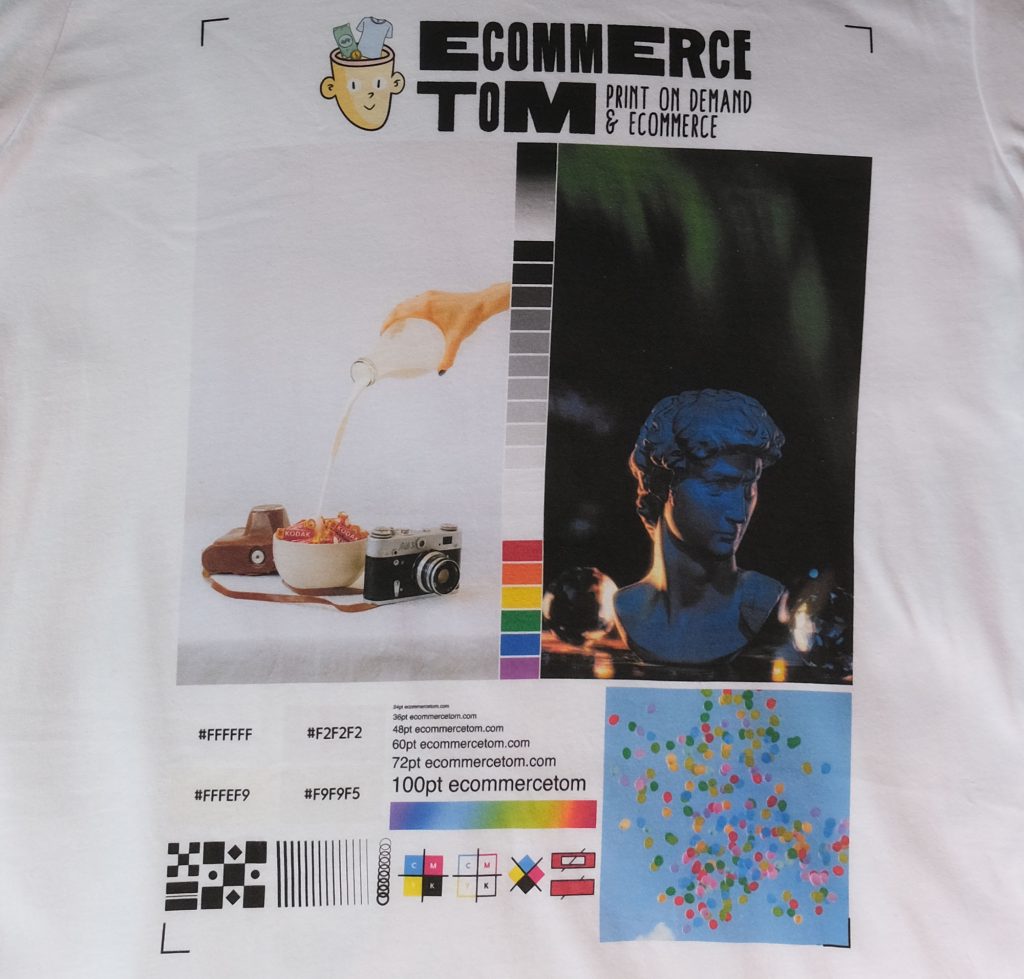 On the white shirt, the white print looks very good, but to be fair I've not seen anyone print this photo badly yet. All the colors are super vibrant, leaving the skin tone a little orange. But thats not a massive deal. All the details in the photo are visible, even right down to the text on the batteries and on the camera too.
Looking at the same print on the black shirt. I'm super impressed with how this has turned out. With DTG I've come to expect the white print on black fabric to very hit and miss, and to normally just look okay at best. But this has printed so amazingly well, I was actually shocked when I opened the parcel. Every other print provider has printed this somewhat patchy, but this isn't the case here at all. There is no fabric showing through at all. The colors here a very vibrant, but not overly so like on the white shirt. Again everything here is super sharp and detailed, just like on the white shirt.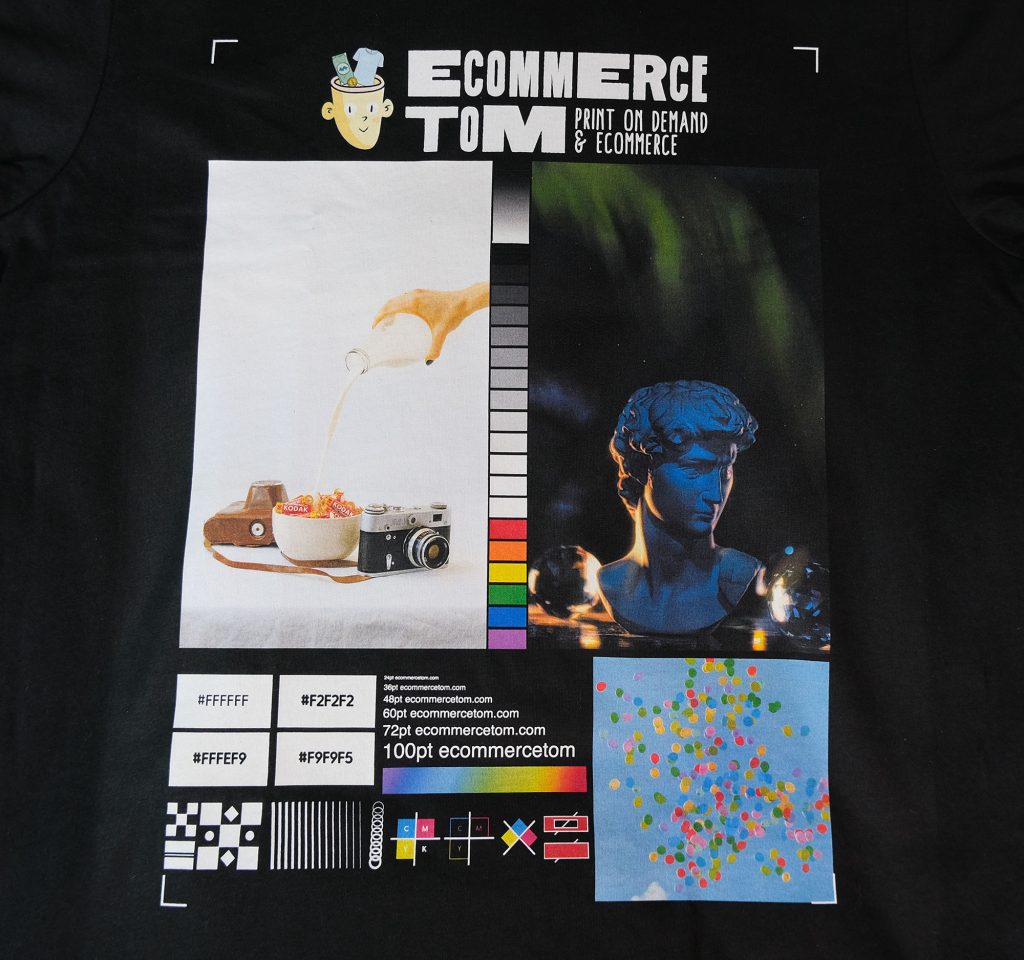 Now moving onto the dark print, looking at the white shirt first. The first thing that jumps out here is the colors look a little odd, and I can't quite work out why. Its almost like the statues face has gone negative. But saying that, the rest of the image has printed perfect. Really sharp and vibrant. Even some of the faint stars in the background have printed.
Looking at the same print but on the black shirt, this has printed perfect. I can't find any issues here at all. I think in my FYBY review I stated that they printed this image the best I'd seen. Well that crown didn't last very long, this print from Awkward styles is now officially the best. If I had to be super picky here, I'd say the blues are a little too vibrant for my liking, looking almost neon. But this doesn't ruin the print by any means.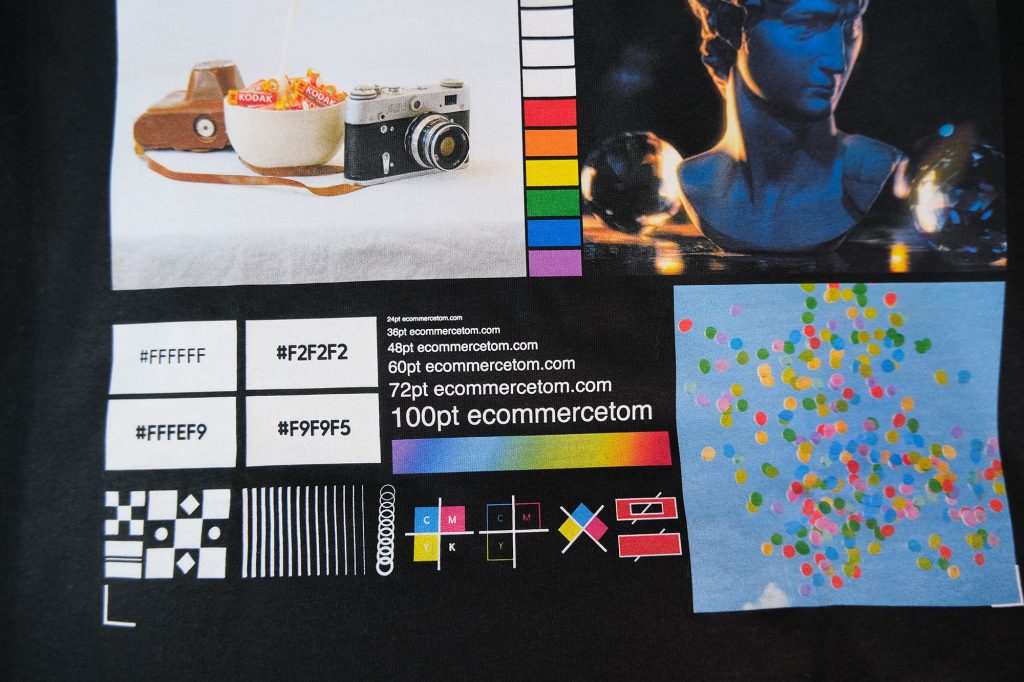 Taking a look at the overall sharpness now. Stating with the alignment icons, these are very sharp on both shirts, no edge blurriness at all. The text is very readable even right down to the smallest font size. Looking at the lines, other printers normally have issues with printed the super thin lines. But apparently not Awkward styles, even right down to the thinest lines have printed well.
I think I've stated that The Dream Junction was the sharpest print I'd seen. However now that I have this print, this is without a doubt the sharpest print I've seen. There's not one part of these prints that aren't super sharp and detailed.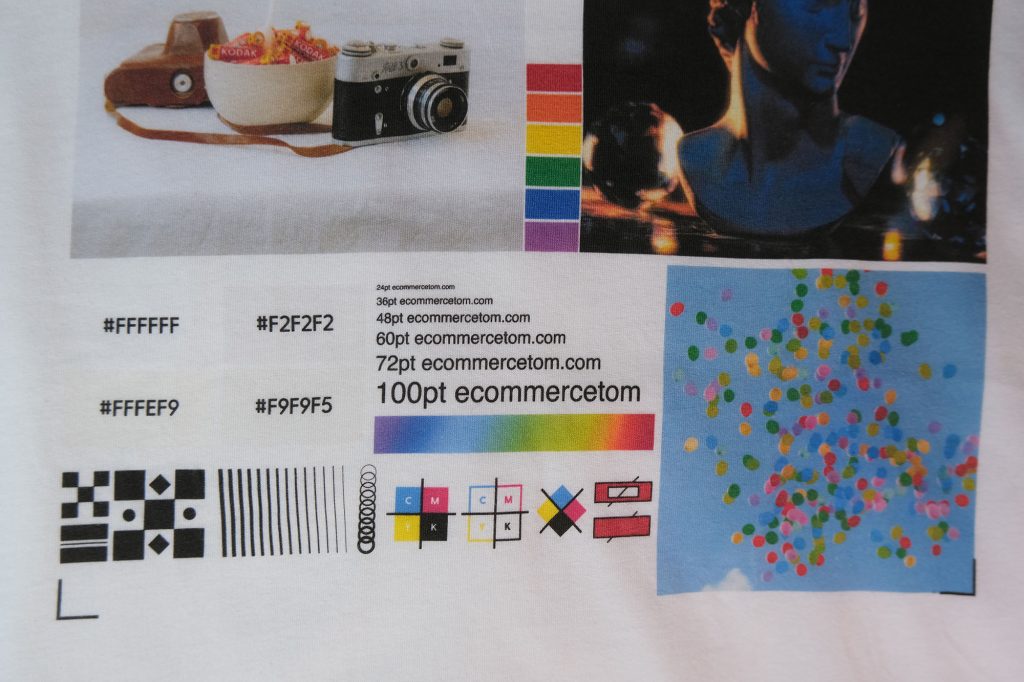 Looking at the overall colors and vibrancy now. On both shirts the colors are super vibrant, but this has caused some slight issues. Mainly just with the statue head, on the black shirt the blue is way too saturated and on the white shirt the print just looks odd for some reason. Other than that, the colors do seem to be pretty accurate though. One little issue I did notice, and I'm not sure that the cameras will pick this up. But on the white shirt, the red, orange and yellow color blocks have lines going through them for some reason. This is not present anywhere else on the shirt though.
Looking at the balloon photo, this has printed very well on both shirts. All the different balloon colors have printed accurately and because the print is really sharp, it makes the balloons contrast well with the blue sky. This is definitely the best version of this I've seen printed so far.
Moving on the off whites now and looking at the black shirt. They've all just pretty much printed white here with the pure white looking the brightest. This is the same with the white shirt, except you can actually see the different shades of white here, although very subtle.
Print Feel
Starting with the white shirt, and this is pretty much the same with every DTG print that doesn't have an underbase. The print blends in with the fabric, you can barley even feel that theres a print there. The softness of the shirt is maintained and you can't feel the print on your skin when you wear it.
However this is not the case with the print on the black shirt. The print here is very prominent, it almost feels vinyl, feels quite heavy too. You'd definitely be able to feel this when wearing it. I imagine the print needs to be like this in order to get the print quality.
On closer inspection I did actually notice a small issue, well its not so much an issue, but it could become an issue if the customer doesn't understand what it is. This won't show up on camera so I'll just have to explain it, basically there is a thin layer of glue like substance on the shirt. I believe this is pre treatment to make the print stick to the shirt better, you can correct me if I'm wrong on that. You can see it in some lighting and you can definitely feel it. Here it is covering most of the front of the shirt. I've had complaints in the past from customers about this, you just have to explain it to them. But the reason this is only a small issue, is that this should completely wash away after the first wash. Which we'll move onto now.
After Washing
I washed both shirts on a cool 30 degree Celsius wash, inside out. And I'm pleased to say that both shirts have come out looking the same as they went it. No apparent fading at all. Which I'm very happy about. However on the black shirt, that glue like coating has not completely washed out, which I expected it to do. We'll see if it washes out in future washes. I'll continue washing these shirts and they will be included in a wash update video in the near future.
Conclusion
So in conclusion, Awkward styles are not the fastest at production, nor are they the cheapest print provider. But what they do offer is amazing print quality that I haven't seen from any other print providers so far. So if almost perfect print quality is the most important factor to you, and you don't mind paying a little extra for your shirts, then Awkward Styles are the printer to use.
Let me know who you'd like to see reviewing next. And if you're interested in trying Printify premium, don't forget you can use my code to get 30 days free. To get the 30 days free head over to Printify using this link and then enter the code "ecommercetom" in the coupon code field under your account. 30 days will then be applied to your account. This code should work for new and old accounts.
Should you use them?
Ask yourself the following questions:
Do you want the best print quality?
Do you want to charge more for your shirts/or have a smaller profit margin?
Do you and your customers mind waiting a few extra days?
If you answered yes to most of the questions, then using Awkward Styles will probably work out well for you. They are not the fastest, they are not the cheapest but they do offer amazing print quality that I haven't seen from any other printer yet.
Awkward Styles get a 👍 from me!
Until next time.
-Tom