Welcome to the next instalment of my Printify print provider reviews, this time we're taking a look at FYBY who are a Printify Print Provider. FYBY are based in the US, and print mainly on clothing. They also appear to have a retail website selling the same items they offer on Printify.
If you'd prefer to watch this review, please take a look at the video below, if not please carry on reading below the video.
FYBY Review
The Test
The test is quite simple, I basically placed an order with FYBY/Printify for both a black and white t-shirt containing my print test design. Both shirts are the same model, Bella Canvas 3001, in size large.
The design consists of a challenging white photo. I chose this photo because it contains lots of subtle shades of white that can be difficult to print. The same goes for the dark photo. Lots of different shades of black and other dark colors that can be hard to print accurately especially on fabric.
The rest of the test design is just different shades of colors, print alignment test, font size tests and another challenging photo that contains lots of vibrant, contrasting colors.
Production and Shipping Times
First lets talk about the processing and shipping times. I placed my order with FYBY on the 8th of February, the order was then shipped on the 11th of February, so that's four days production time which is not the best, but not the worst either! If fast production times are important to you, maybe look elsewhere. I live in the UK so my shipping times will be always be longer since FYBY are based in the US. However, I was very impressed with the delivery speed, it took just 7 days for my order to reach me. 
Packaging
Regarding the packaging, the shirts came in a plastic mailer bag, nothing fancy. However the shirts were individually packed into individual plastic bags inside of the main plastic mailer. This does make the packaging feel more premium, however I just can't help feel like this is massive waste of plastic. None of the labels stated "Printify" or FYBY. Instead it displayed my company name as it should do.
Pricing
Moving on to the pricing, at the time of ordering each shirt cost me $8.62 with UK shipping costing almost $20. However If I was based in the US, my shipping costs would have been $6.30 for both shirts.
Looking at profit, if I was to sell a shirt for $25 to a US customer and use FYBY as the print provider, you would be looking at around $11 profit not taking into account any taxes or marketplace fees.
Pricing Update
Since placing my order, FYBY have unfortunately increased their pricing. The Bella Canvas 3001 t-shirts now start at $10.03! The pricing table below reflects their new pricing, compared with Monster Digital.
| Prices for a US customer | FYBY (Printify) | Monster Digital (Printify) |
| --- | --- | --- |
| Bella Canvas 3001 (Black, L) | $10.03 | $8.57 |
| Shipping cost to the US | $5 | $4 |
| TOTAL COST | $15.03 | $12.57 |
Prices as of May 2022
Print Quality – White Shirt
Moving onto the print quality. I'll go ahead and start with the white shirt.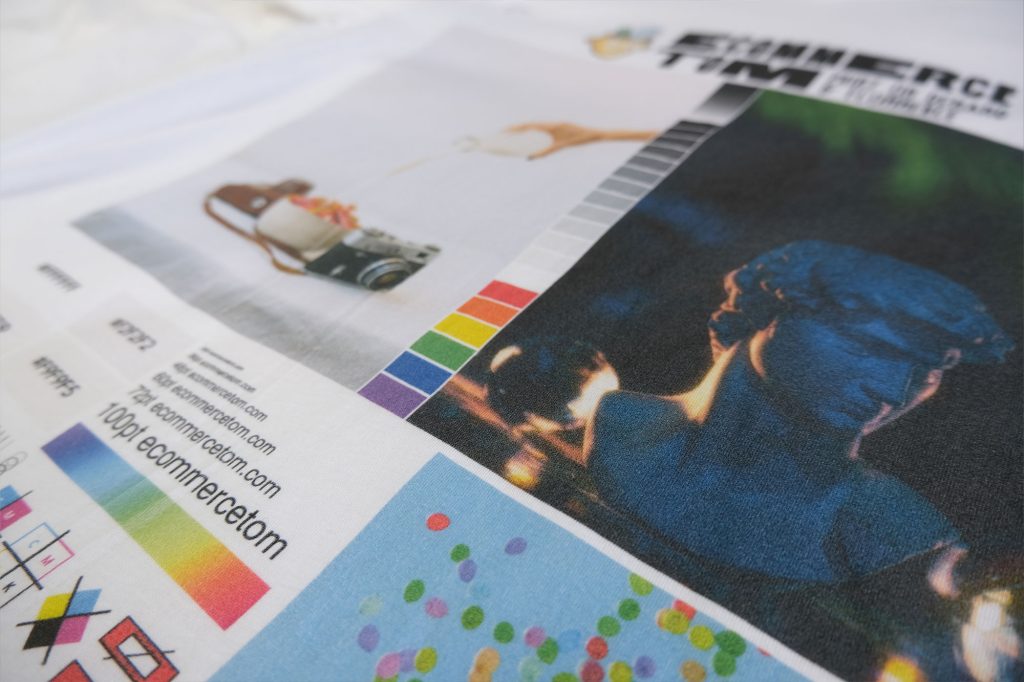 Looking at the white print, this has printed overall pretty good. All the different variations of white, shadows and finer details have printed well. However on a detailed inspection, I can see a big line down the print. At first I though this was just a crease, however it seems to be part of the print. It looks as though they have printed on top of a crease. This definitely would be noticeable by a customer, but I am sure Printify would provide a replacement for this issue.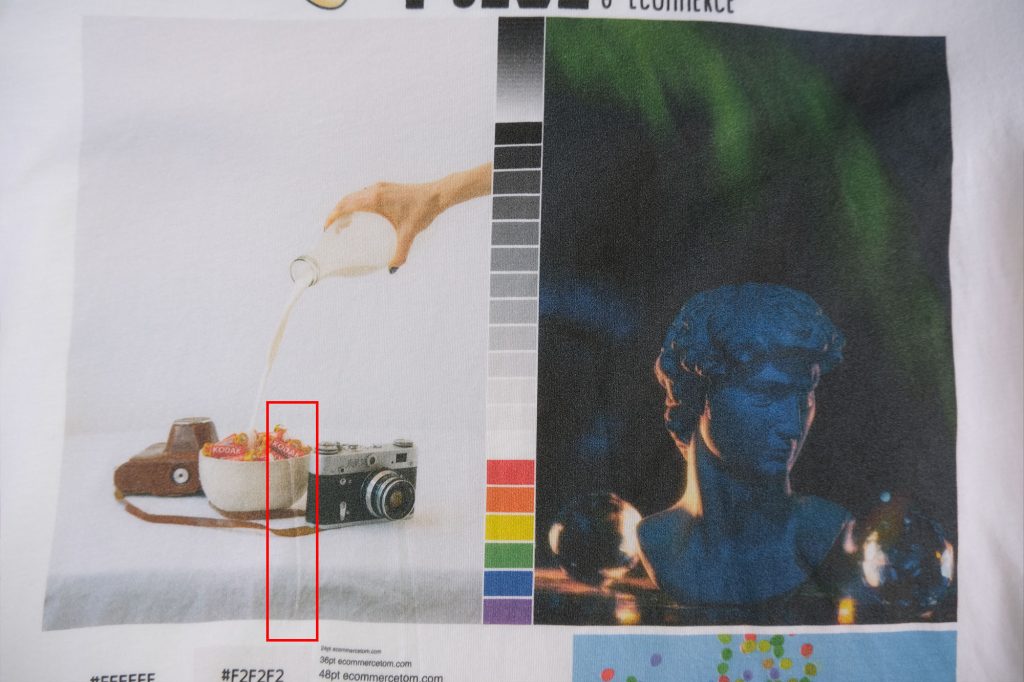 Moving onto the dark print, again this has printed overall pretty good, although it does look a little flat and desaturated. If we take a look at the statue, it sort of blends in with the background, where in reality the statue should stand out as in the original photo. If it wasn't for the line down the white photo, I would have been mostly happy with how these two photos printed.
Colors
Looking now generally at the colors, everything looks good, I wouldn't say it super vibrant but its vibrant enough. However the prints on the white shirts have a tendency to fade a little after the first wash, we'll see at the end of the video if this is the case or not. One thing I did notice on closer inspection is that the yellow color has a slight green tone to it, which shouldn't be there. I don't know if this would effect anything though, since the yellow does still come across as yellow looking at it a short distance away.
Whites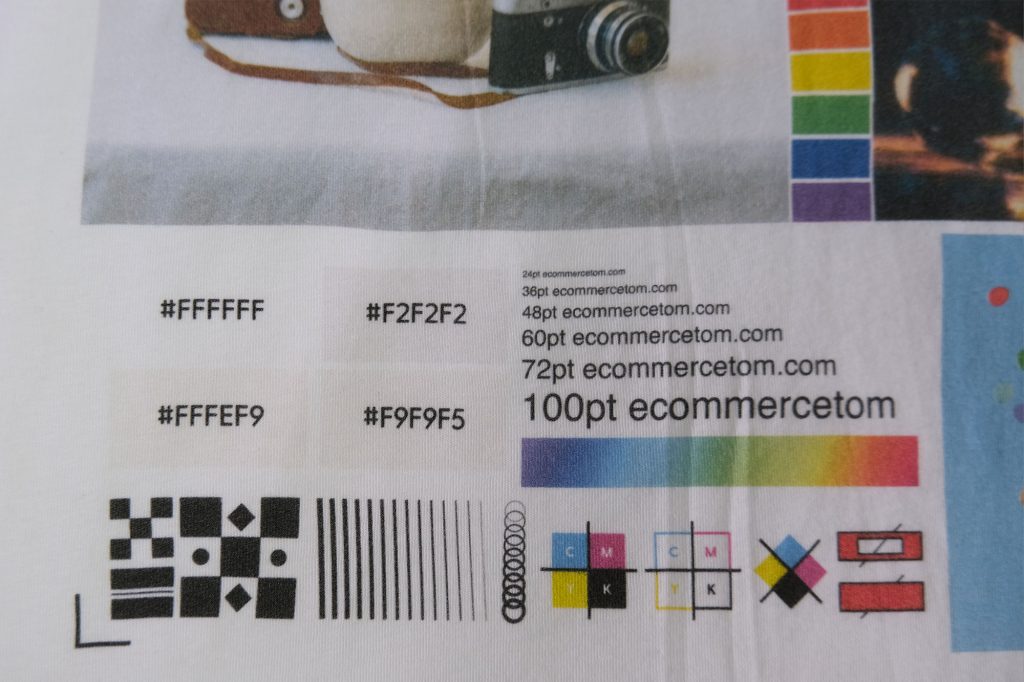 Looking at the different shades of white now, these seems to have printed pretty accurately, no complaints here. Now taking a look at the alignment icons, everything looks sharp except when you get down to the finest lines. At the thinest line, the print has lost its black color and looks a little blurry.
On detailed inspection, I can see that the icons do suffer from color bleed. While minor, this is the first time I've seen this on a DTG print. So thats interesting, nothing else on the print suffers from this, just these icons. All the text has printed good and is readable, even right down to the smallest font size. I will add though, that at the smallest font size, the text has lost a bit of its color.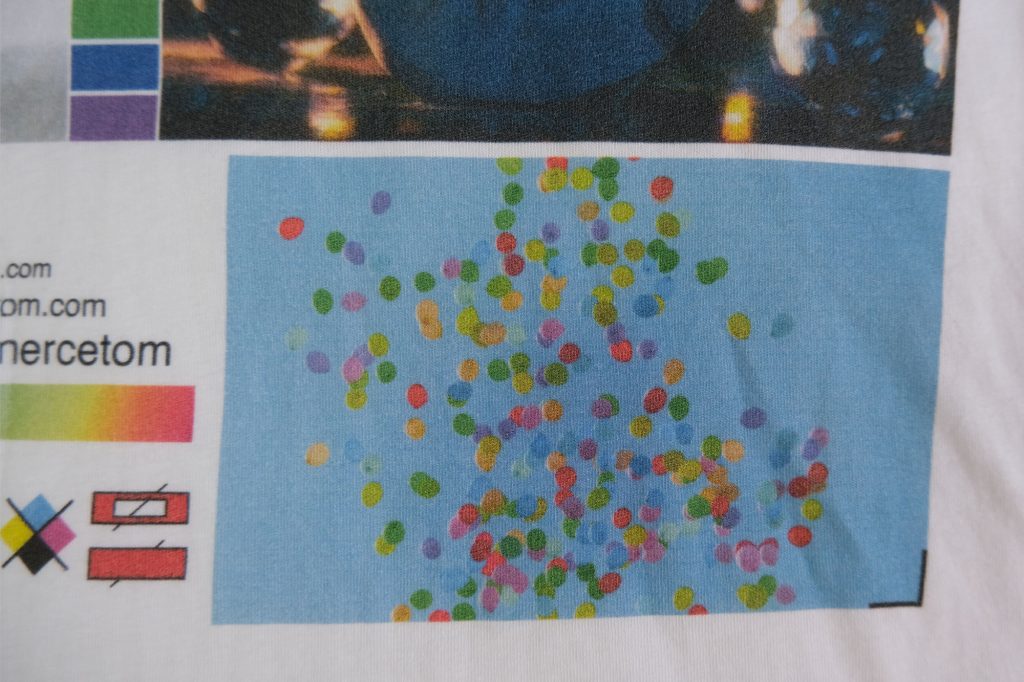 Moving onto the balloon photo, this has actually printed pretty good. I can't see any issues with this. The colors all look good, even the yellow balloons have actually printed yellow. I wish the rest of the shirt was this good.
Print Quality – Black Shirt
Now lets take a look at how the black shirt has printed. So I'm trying to keep this fair and I don't want to be overly negative or critical, but unfortunately I have to say that this is the worst print I've seen so far from the providers I've reviewed. And to be honest, the print comes across better on camera than in real life.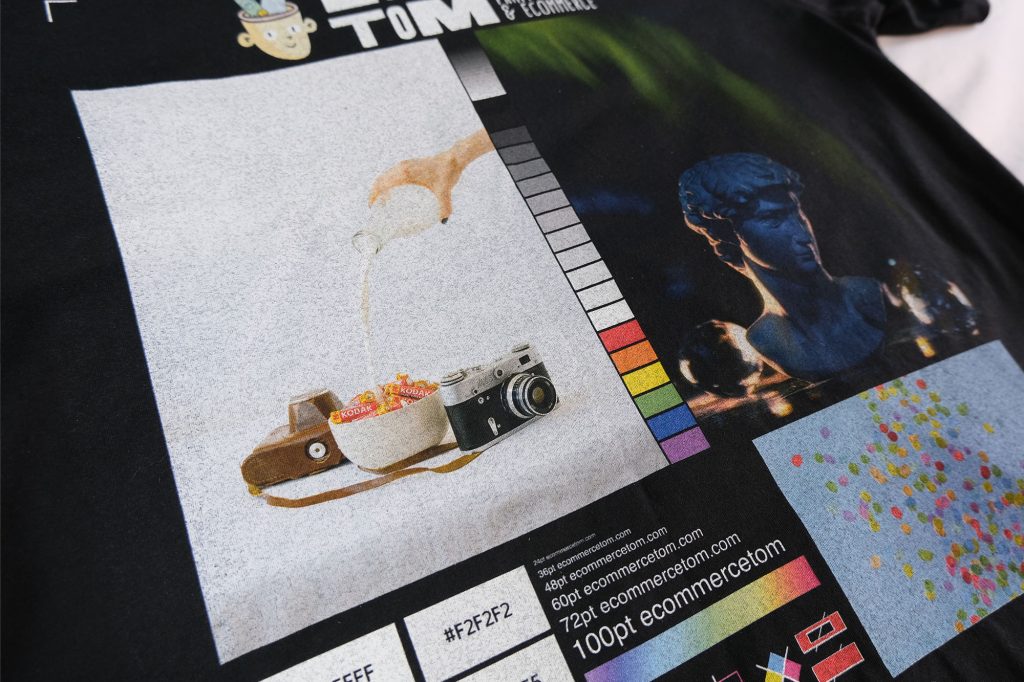 Firstly lets look at the white photo. This is awful, its extremely patchy, even from far away, it just looks awful and I'm honestly not sure how this left their facility. They must deem this as an acceptable print, to actually print, package this up and send it out. If I received this as a customer, I would be extremely disappointed and would be asking for a refund or a replacement. Even looking at my logo, the print is very poor, the black shirt is just showing through too much.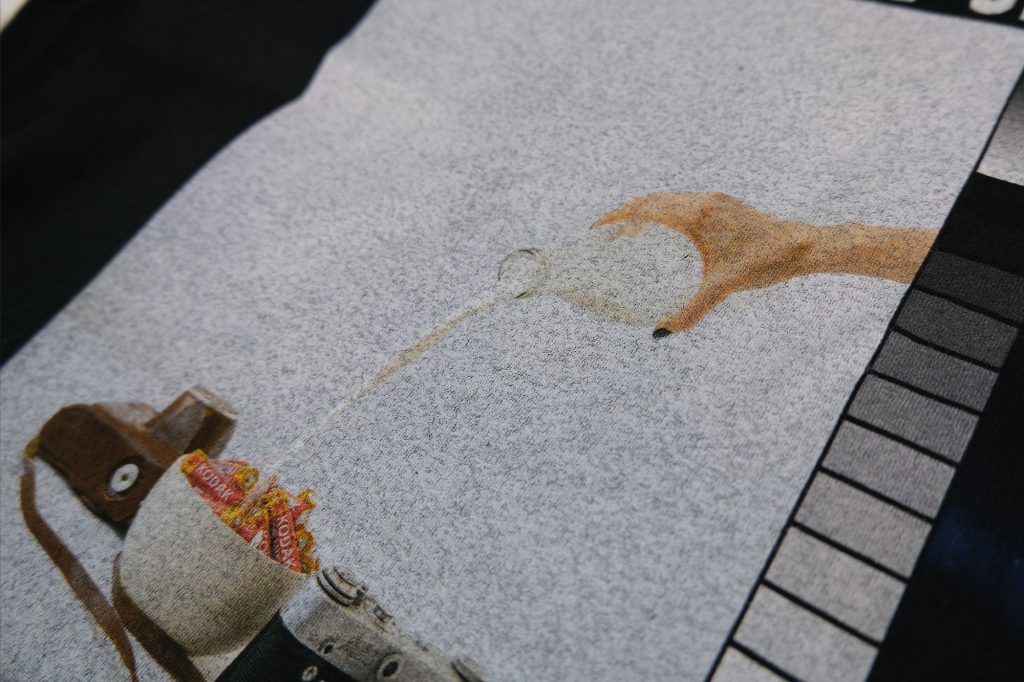 Now this is where things get very odd.
Looking at the black print, this has printed extremely well. I would even go as far as saying this is one of the best, if not the best version of this I've received from anyone provider at Printify so far. The statue is very detailed and just pops off the shirt. All the colors in the background have printed well, even some of the really faint stars have printed too. Its not completely perfect though, if you look at the highlights, this does look patchy unfortunately.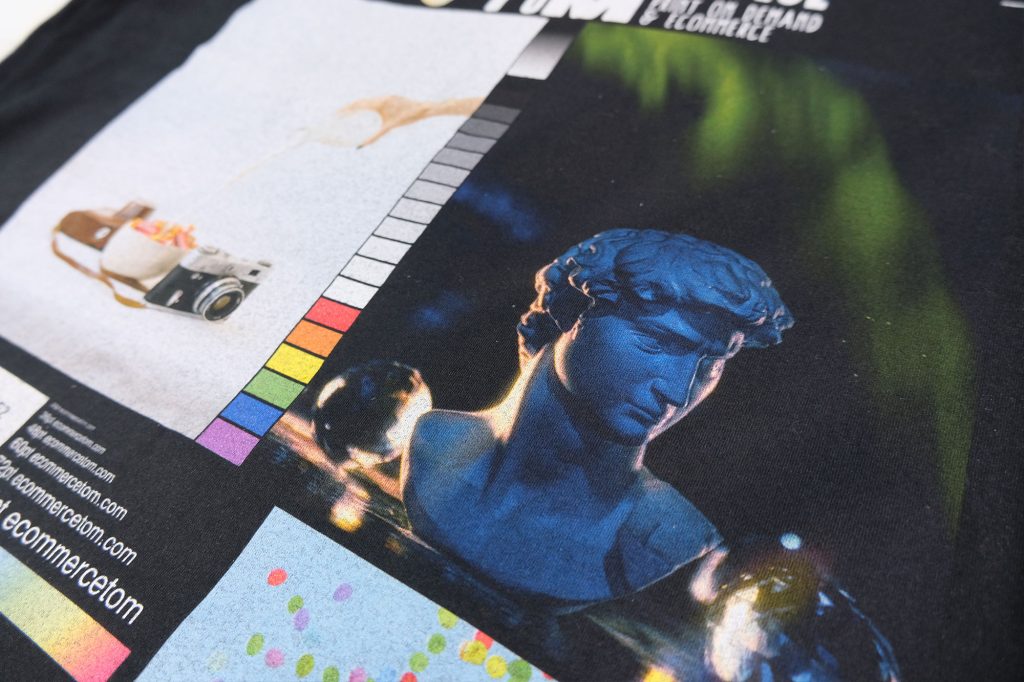 I think I do understand why this looks so good, especially when the rest of the design looks rubbish. I think its to do with how they process the design files. Most of the other print providers I've looked at will print black ink on black fabric, it doesn't show up very well, but they do print it. Here it appears that they've just completely got rid of any part of the design that is black. None of the blacks have printed. While this does work extremely well for this photo, I'd be worried that it could end up producing some weird results for other photos or designs.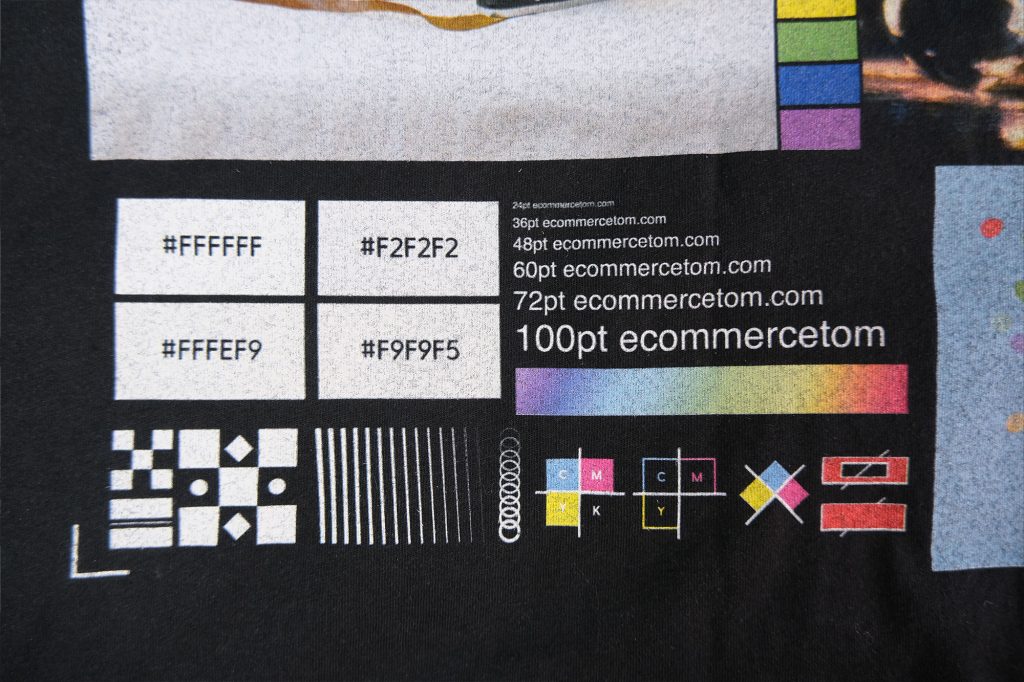 Okay lets take a look at the rest of the design. Starting with the alignment icons. If we look past the patchiness for a second, they have mostly printed okay. Except for the thinest of the lines. The thinest circle has almost disappeared. If we look at the text, again this has printed mostly fine, everything is still readable, even down to the smallest font size. Although here it may take a little squinting. Interestingly the icons here don't suffer from color bleed like they do on the white shirt.
Lastly lets look at the balloon photo, again this is patchy but not as bad as the white photo, which is a positive I suppose. I wouldn't say that this has printed well though.
Look and Feel
So looking at how the prints look and feel. On the white shirt, the print is matt, it's light and feels like it part of the fabric. But this is pretty normal for DTG. Looking at the black shirt, this is again matt but this time the print has a very rough texture to it. You'd definitely be able to feel the design on your chest if you were wearing it. This is very subjective, some people don't like heavy designs on their shirts.
Conclusion
Okay so overall I'm not happy with how these prints have turned out. While the white shirt is okay, there are some clear quality control issues at FYBY. A crease should not have been printed onto the shirt, I can cut them some slack for this, as I can understand it could be easy to miss. However what I can't cut them slack on is how the black shirt looks. Almost everything on here looks terrible, no customer would accept this. While the dark photo has printed very well, this doesn't save the shirt overall. 
I just simply can't recommend using FYBY. I certainly won't be. Which is a shame because they offer some Bella Canvas 3001 colors that the other print providers don't. They have an above average processing time, they're (now) more expensive then other, better, print providers and they have quite poor quality printing. If you must use them for those exclusive shirt colors, then stick to the lighter color shirts for the best results. Otherwise, and in my opinion, just avoid using them altogether.
Printify Rankings
Adding FYBY to my Printify rankings, they are firmly at the bottom. This does currently make them 4th on my list, but please understand I've only reviewed 4 print providers, which currently means they are the worst. Of course this is just my opinion, you may of had a very different experience to me, if you have please let me know in the comments.
| Printify Print Provider | Recommend? |
| --- | --- |
| 1) Monster Digital | 👍 |
| 2) The Dream Junction | 👍 |
| 3) SwiftPOD | 👍 |
| 4) FYBY | 👎 |
Out of the providers I have reviewed, I still rank Monster digital as number 1. Closely followed by The Dream Junction at number 2 and SwiftPOD at number 3. Please let me know which print provider you'd like to see reviewed next!
After Washing
I washed both shirts on a 30C wash, inside out and air dried. The black shirt has come out looking exactly as it went in, which is very good. However the white shirt has faded slightly, this is only sightly and doesn't have be concerned yet and this does appear to be normal.
Of course this is only one wash, I'll continue washing these shirts and they will be included in a wash update video in the near future.
Next we'll be taking a look at Awkward Styles. Subscribe to my Youtube or Newsletter so you don't miss out on that.
If you're not already signed up to Printify, consider supporting my work by using my link to sign up.
See you next time! -Tom