I came across Flying Research after being recommended their other tool, Flying Upload. I never ended up using Flying Upload, however I do use their research tool and I think it's a very valuable tool for all print on demand businesses.
What is Flying Research
Normally when you go to a businesses website, you are greeted with a fancy homepage that tries to sell you their product or service. This is not the case for Flying Research. You go to their website and you are greeted with a login page, and nothing else.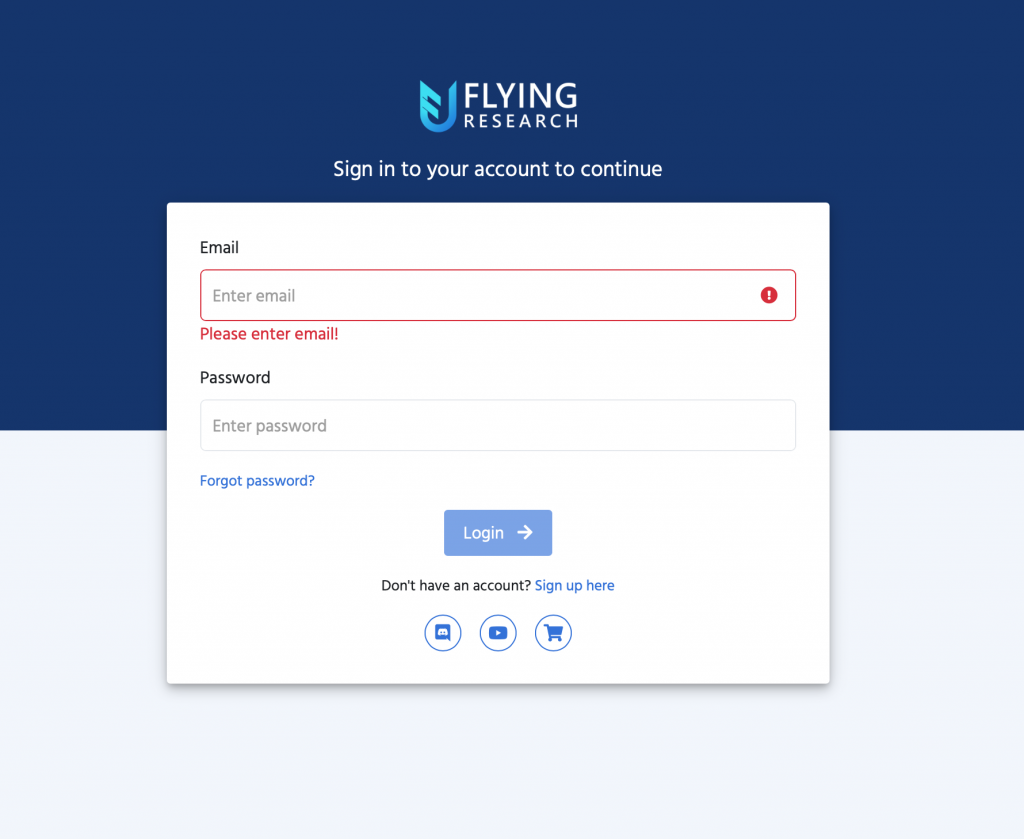 To be honest, this put me off the service right away, it seemed dodgy. I have to pay to access a service that I know nothing about? I thought.
However when I went back to their Flying Upload site, I realised that the research tool was shown and described there. The Flying Research domain really needs some form of page that isn't just a login page.
The research tool is exactly what it is described as, a tool that aids your design and niche research. From listing all the best sellers on Merch by Amazon, too tools to help you discover new and upcoming niches.
And a handy tool that will analyse any given niche. Giving you valuable info like, average sales, niche interest over time and keywords used in the niche.
They also offer a trademark tool, that allows you to search all the trademark databases all over the world and it also allows you to track keywords for any future trademarks. Very handy to stay on top of any trademark issues that might arise, without this you'd have to constantly check for new trademarks manually.
---
How Much Does Flying Research Cost?

This is not a free tool, they offer no free plans and no free trial. But they do offer a 14 day money back guarantee. If you want to use this tool, you have to pay. Pricing starts at £9.95 per month, however this is just for the trademark tool. To access the research tool, it'll cost you £19.95 per month. They do offer a bundle of both tools for £28.95.
So if you think you'll need both tools, the bundle is the better value, if only slightly.
They do also offer annual pricing, £318.95 a year for both tools, bringing down the monthly cost to £26.57.
---
Is Flying Research Worth the Cost?
There's no denying that Flying Research is a tad expensive, especially if you're just starting out and not yet making any sales. However, I do believe it is worth the cost. Keyword and niche research is a pain, and Flying Research makes this process a lot easier.
Similar tools, such as Merch Informer charge $59.99 (~£43) which is a lot more expensive. However Merch Informer do offer a cheaper $9.99 starter package, which I think Flying Research could do with offering, or least offering a free trial.
If you're wanting to increase your chances of making sales, targeting good niches with good keywords is essential. And this is what Flying Research is for, and is well worth the £19.95 they ask for. You would only need to sell between 2-4 t-shirts to cover the cost, depending on your margins.
---
So What Does Flying Research Actually Do?
Okay enough talk about costs, let actually talk about the features. Below I'll go over each section of the site, what it is, what it does and how useful it is.
Best Sellers
This section of the site simply list all the best sellers on Merch by Amazon, it lists its Amazon Rank, Price, and the estimated number of sales the design makes each month. You can filter by keywords, marketplace, product and Amazon ranking.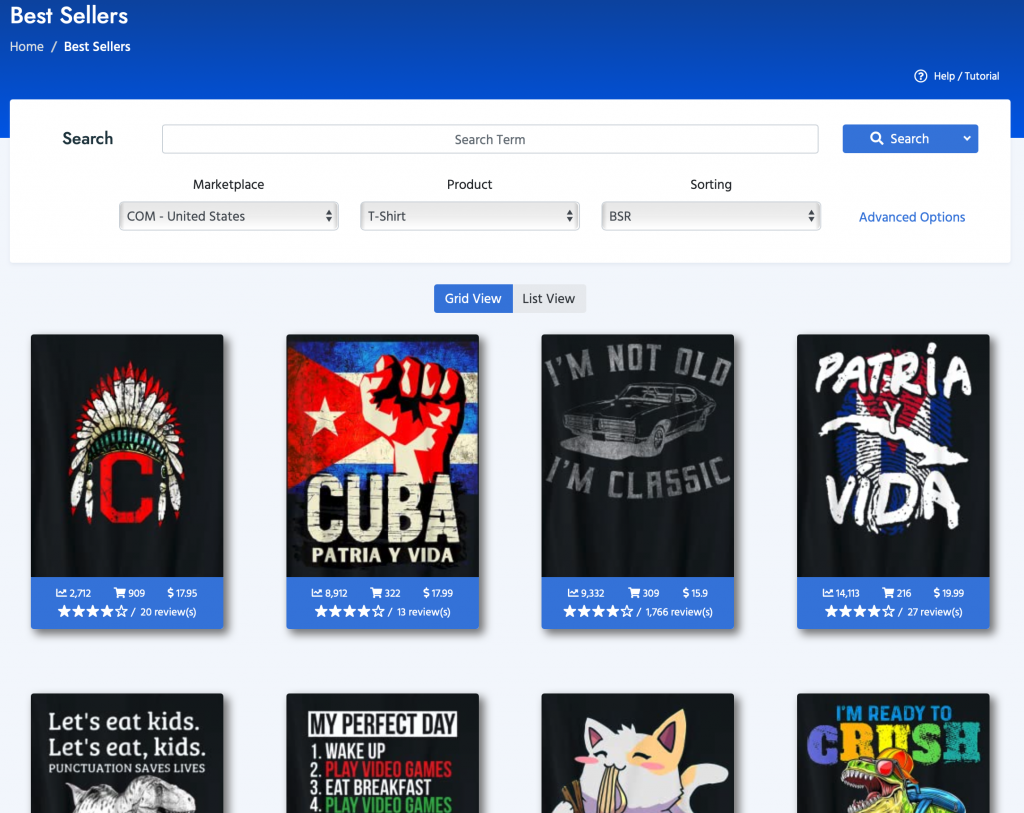 This is useful for getting a feel of what sells, what type of design sells and is also useful for seeing evergreen niches. This section is also useful for the copy and improve method, which I highly recommend you don't do.
Seller Trends
Similar to the best sellers section, this shows you the best sellers over the past 30 days. As the name suggests, useful for uncovering current trends.
Subcategory Ranks
This section allows you to search designs that are ranking in other categories other than the general clothing category. A design targeting dogs for example, may get placed into a specific category relating to dogs. This tool helps expose those designs.
Get Inspired MBA
Simply shows you a random selection of designs from Merch by Amazon, useful for getting new ideas for designs or niches. Clicking the "New Ideas" button gives you options for showing new design, new trends and BSR trends.
Get Inspired POD
Similar to the MBA inspired section, but this uses data from Redbubble and Spreadshirt. Simply displays a selection of random design, again useful for getting inspiration.
Brands
This section shows you a list of the best selling brands. I'm not sure how useful this is since all the best selling brands are from Disney or other large IP holders.
Categories
This acts as another get inspired page, except this breaks down designs into different categories, or niches. This is especially useful for discovering new niches, or to discover what sells in specific niches.
Niche Analysis
This is one of my favourite tools in Flying Research. You input a keyword/niche and the tool list the average sales designs in this niche get, the interest in the niche over time (useful for finding evergreen niches), keywords used in the niche and shows you the best sellers in the niche.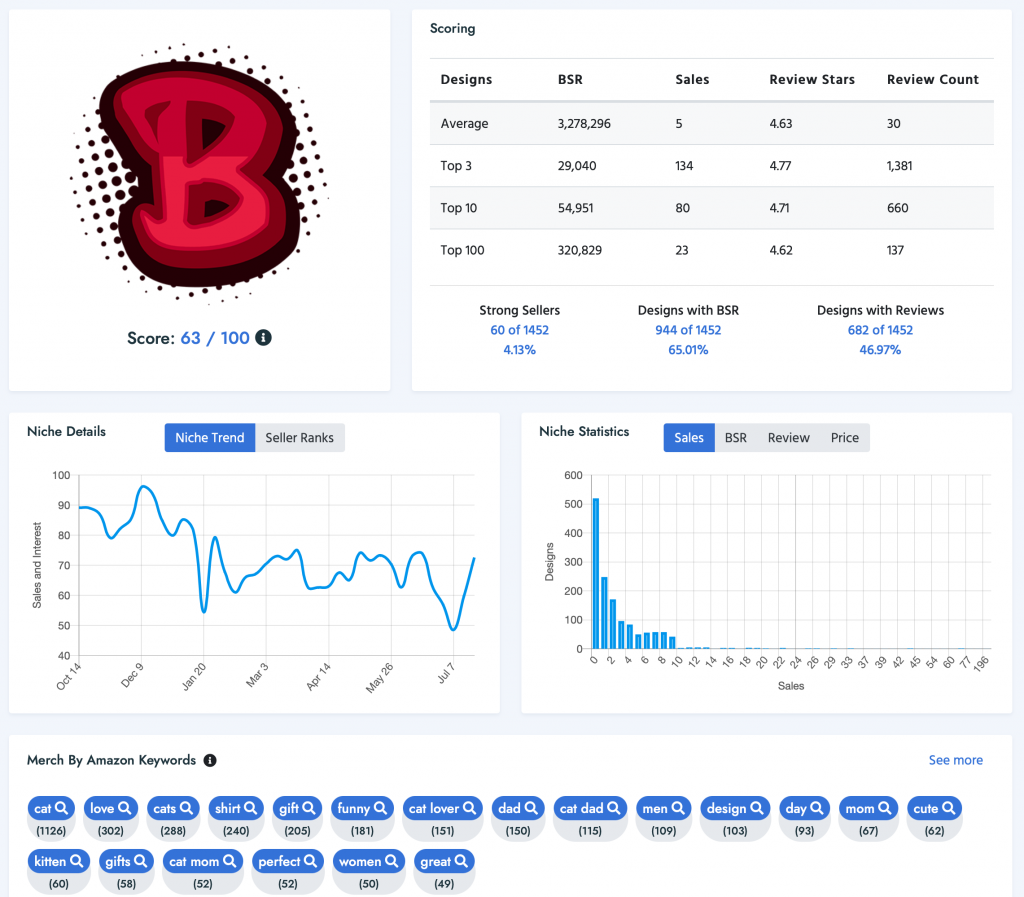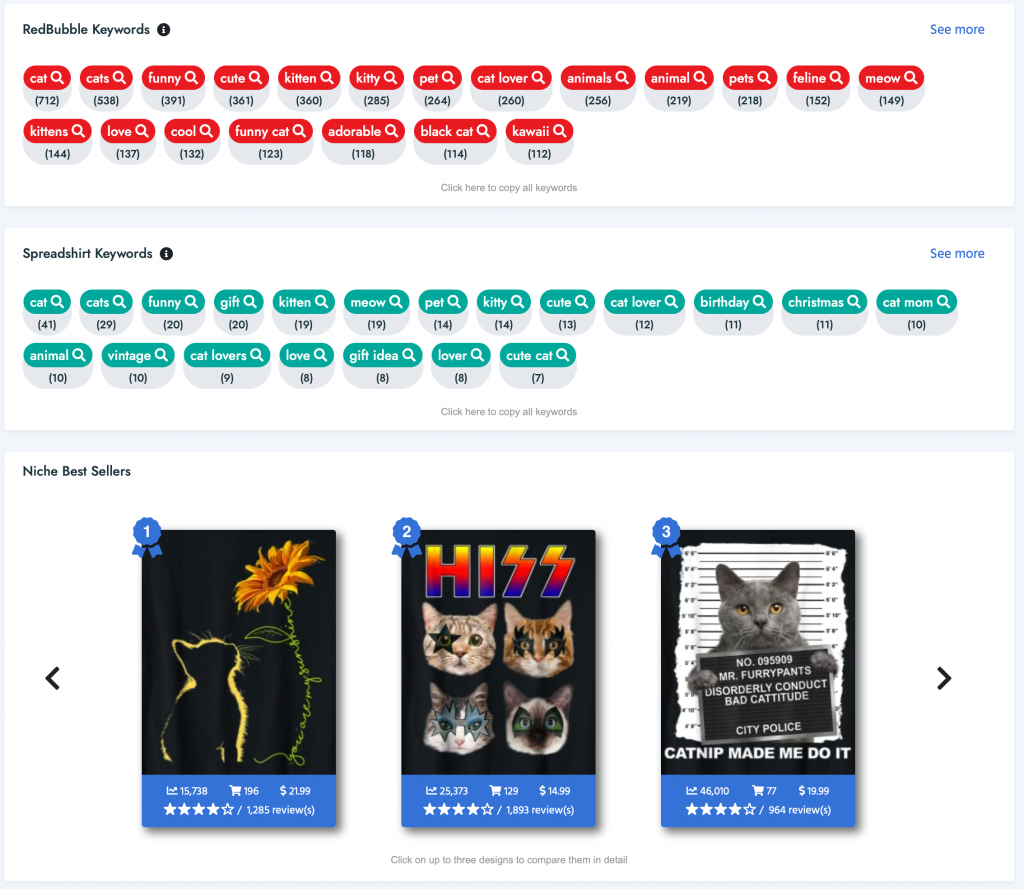 This is extremely useful for validating if a niche you are thinking of entering is worth your time, if the niche is profitable and also gives you useful data such as keywords and a selection of designs that are already selling.
Niche Lists
This page just gives you a simple list of popular niches, not hugely useful. But a good starting point for finding design or niche ideas.
Product Search
This page houses a search tool that allows you to search Amazon, but only Merch listings and nothing else. Also allows you to search all the Merch by Amazon marketplaces. I wouldn't pay Flying Research just for this tool though, a similar tool is also available for free here.
Events / Upcoming
This page shows you upcoming holidays and the best sellers within that niche.
Events / Calendar
An interactive calendar that shows you all the holidays in all the countries that Merch by Amazon serves. Useful for planning holiday based designs.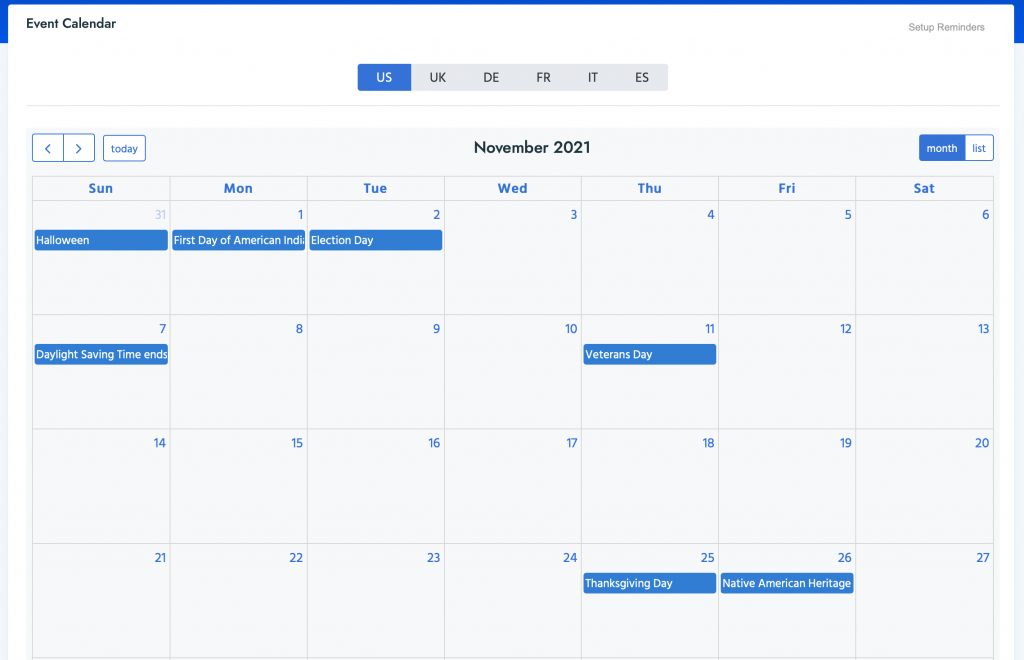 Trademark
Depending on the package you choose, you may or may not have this. It a very simple tool, but it is very useful. It allows you to search all the trademark databases, and when I say all I mean the trademark databases for the US, UK, Germany, France, Italy and Spain.
However the standout feature for me is the trademark watchlist. Let's say you are in the cat niche and you have designs using the phases "Cat Mama", you can input this into your watchlist and the tool will email you when a trademark application is filed for said keyword.
---
Is Flying Research Just for Merch by Amazon Sellers?
To put it simply, no.
Flying Research does focus on Merch by Amazon, and most of the data it uses is from Amazon. However, I do feel like the data is valuable to all print on demand businesses. After all, niches aren't just specific to Amazon. What does well on Amazon, will most likely do well on Etsy and other marketplaces too.
---
Cons
The only cons I have for this tool are firstly that there is no free trial available, and secondly that none of the tools are really explained very well. Each page does have a short video explaining what the page is for, however when I first starting using the tool, I did find myself wondering what all the options were for and feeling like I wasn't getting the most out of the tools. However after learning by doing, I do feel like I'm now using the site to its full advantage.
---
Conclusion
All in all, Flying Research is a valuable tool to have. It enables you to discover new niches, new keywords, and allows you to get a feel of what designs are selling and where. It can aid in design and niche research, with its analysis tool. And Flying Research provides a very useful trademark watch tool for keeping track of any unintended trademark violations.
If you're just wanting the research tool, then pricing starts at £19.95 per month. But if you're wanting the trademark tool also, then that will cost you £28.95 per month.