Mockups are essential for all Print on demand businesses, most POD services, like Printify, do provide you with a basic mockup, however if you want to stand out, you'll have to invest more time and a little money into better mockups. In this post we'll explore the best mockups for your Etsy print on demand business.
Not only do better mockups make your store stand out, but they will also convert more people into customers.
What is a mockup?
A mockup is simply an image, a photoshop file, or an online service that intends to display your design on a physical product without you needing to organise your own photoshoot. Essentially mockups enable you to display professional looking product images in your store, without needing to spend tons of time or money hiring photographers, or models.
You can get mockups for pretty much anything, ranging from T-Shirts, hoodies, sweatshirt to more unusual products like shower curtains and keyrings.
Using mockups will turn your boring default product images from this:
Into something more exciting, like this: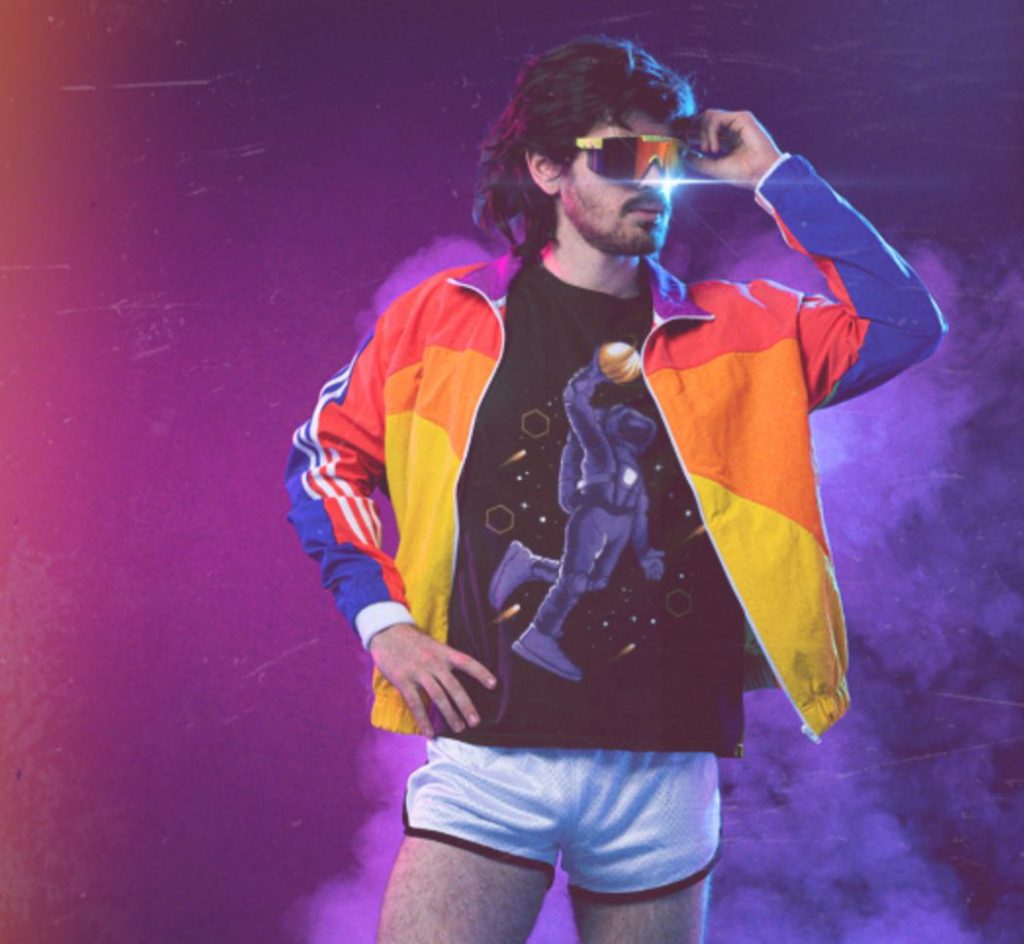 Now, I don't recommend using the above mockup, unless it fits your brand of course. It's a little too crazy, and doesn't focus of the actual item that your are selling, the t-shirt.
---
What type of images do well on Etsy
Etsy is a very visually focused shopping platform, their customers are used to platforms like Pinterest to find products. This means that to do well on Etsy you need to have visually pretty, or interesting photos.
This doesn't mean you need to go crazy and use bright colors like the above, but you do have to cater your product images to the Etsy customer base.
So, what does well on Etsy?
Take a look at the below screenshot of what I get when searching for "Funny cat shirt":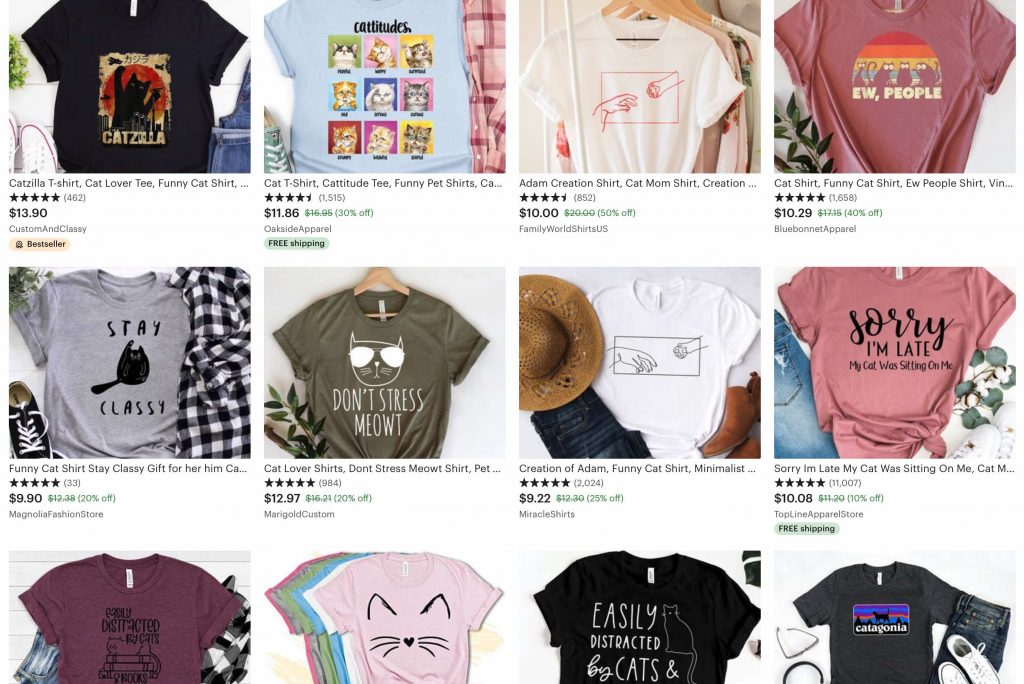 What do you notice with the above screenshot, what do they all have in common?
They are all, either hanging shirt mockups or flat-lay mockups. And these mockups contain props to make the image more visually interesting.
This isn't cherry picked data, just go to Etsy and search for any shirt and you'll see that most of the images are similar to the above.
These type of images simply work and convert well, else why would everyone be using them.
I'm sure that you're thinking something along the lines of "well I'll use different images, then I'll stand out". No, I highly recommend you don't do this, especially if you're a new shop. Unfortunately people like familiarity, and if you make your shop too different, it can turn customers away.
Should I use modelled photos?
Next, I'm sure you'll have noticed that there are no people mockups.
This is because mockups with people in are hard to get right. When you use a mockup of a person, you are limiting that design to a specific type of person.
However if you use just a photo of a shirt, with no person in it, you are removing that limitation and opening up your design to more people. Let me explain.
Let's say you have a cat design, and you choose a mockup up of a Plus size, white, goth female.
You have now limited your design to a select few people, at minimum you've limited the design to females.
When people are browsing a shop, if they can't find relation in the model, they are less likely to be able to visualise themselves wearing it, less likely to like the design being shown, and most importantly less likely to buy.
My advice to you, would be to not use people images, or at least not for the main thumbnail.
What if I have a specific target audience?
If you have a very specific niche and you are wanting to target very specific people, then you can throw this advice out the window. You will find great success using people mockups.
For most stores, especially general stores. Stick to product only mockups.
---
Best Mockup Sites for your Print on Demand Store
Placeit – Defiantly the best and easiest when it comes to creating mockups for your store. They offer thousands of images, which can all be customised with your design in just a few clicks.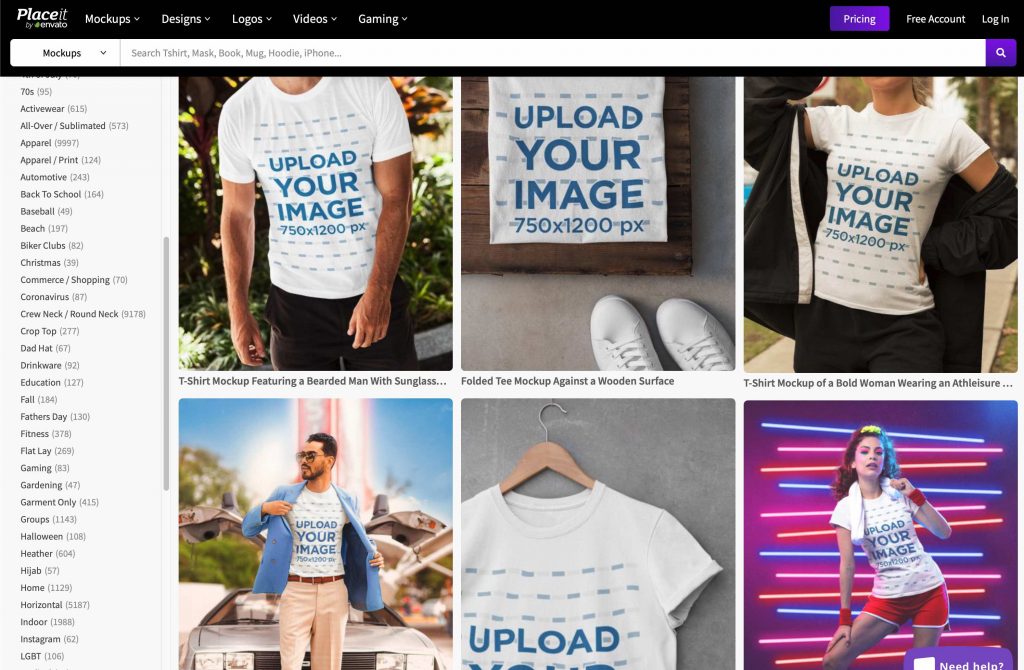 Etsy – Support your fellow Etsy store owners! Searching for "Bella canvas 3001 mockups" brings up thousands of mockups. Try to find new mockup stores, that way you'll be using images that other store aren't using yet, and you'll be supporting a new business.
Some mockup stores I like are:
Canva – Now Canva's main feature isn't mockups, however they do have a small selection of mockups. If you are already using Canva Pro, then you'll already have access to these. Why not use them!
Creative Fabrica – One of my favourite sites for design assets, also has mockups. At the time of writing this article, there aren't many. However if you already have a subscription to Creative Fabrica, then defiantly take advantage and use some mockups from here.
Vexels – Another site that isn't for mockups, but does offer a small selection of mockups. Again, if you already have a subscription you may as well use them!
Unsplash / Pexels – Combined these two together, they both offer free stock images. You may be able to find some nice shots that you can edit to include your designs.
Creative Market – Huge marketplace full of design assets, and mockups. This site is the best for bundles of mockups.
Mockup World – All free, but limited selection.
---
Best T-Shirt Mockups for Etsy
Okay, now we know what images do well on Etsy. Let take a look at some example images that you could use for your store. Below you'll find some of the best mockups for your Etsy print on demand business, in my opinion of course.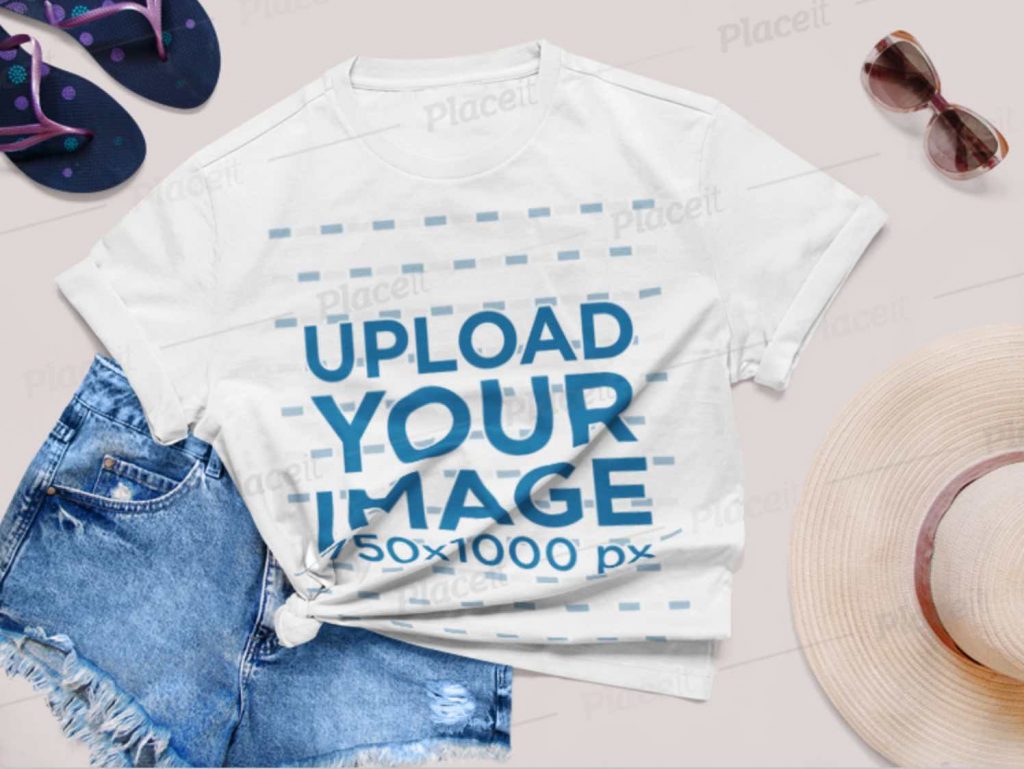 This one will fit right in with the Etsy customer base. Get it here.
---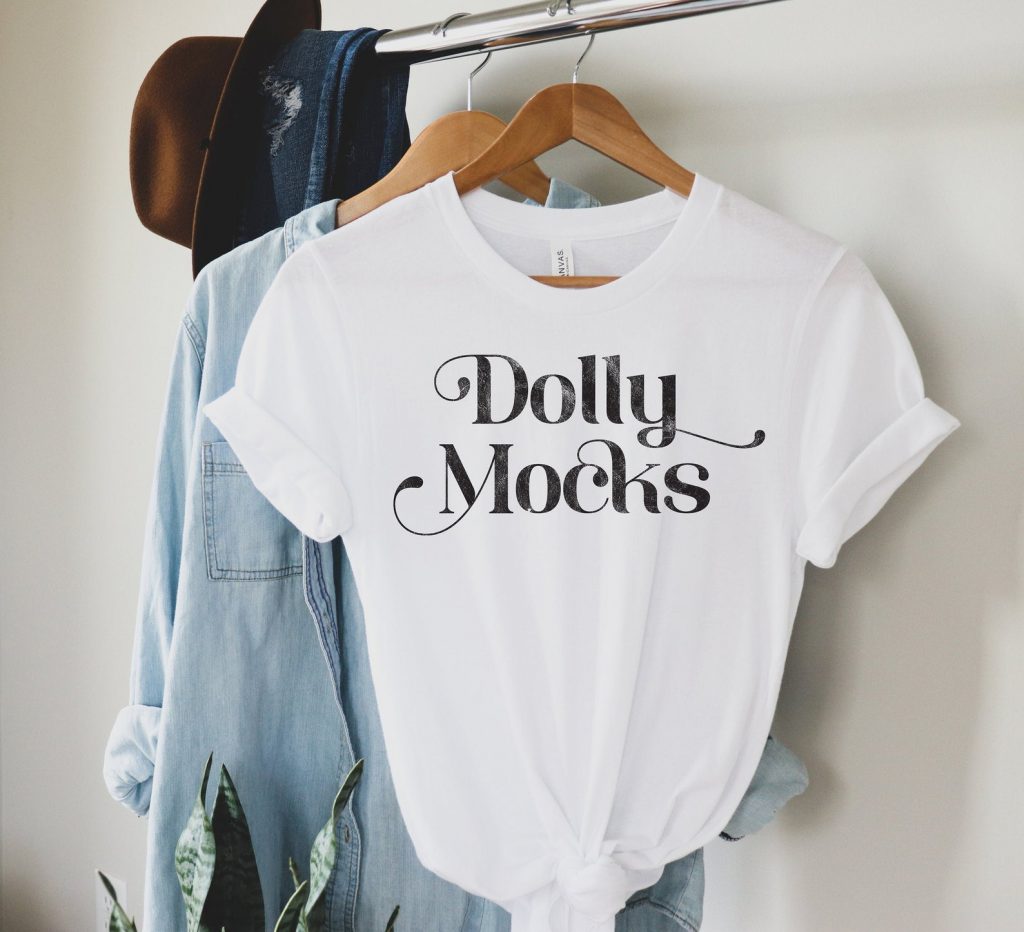 This one is directly from and Etsy shop, again would do perfectly in your Etsy store. Get it here.
---
Good one for Christmas. Get it here.
---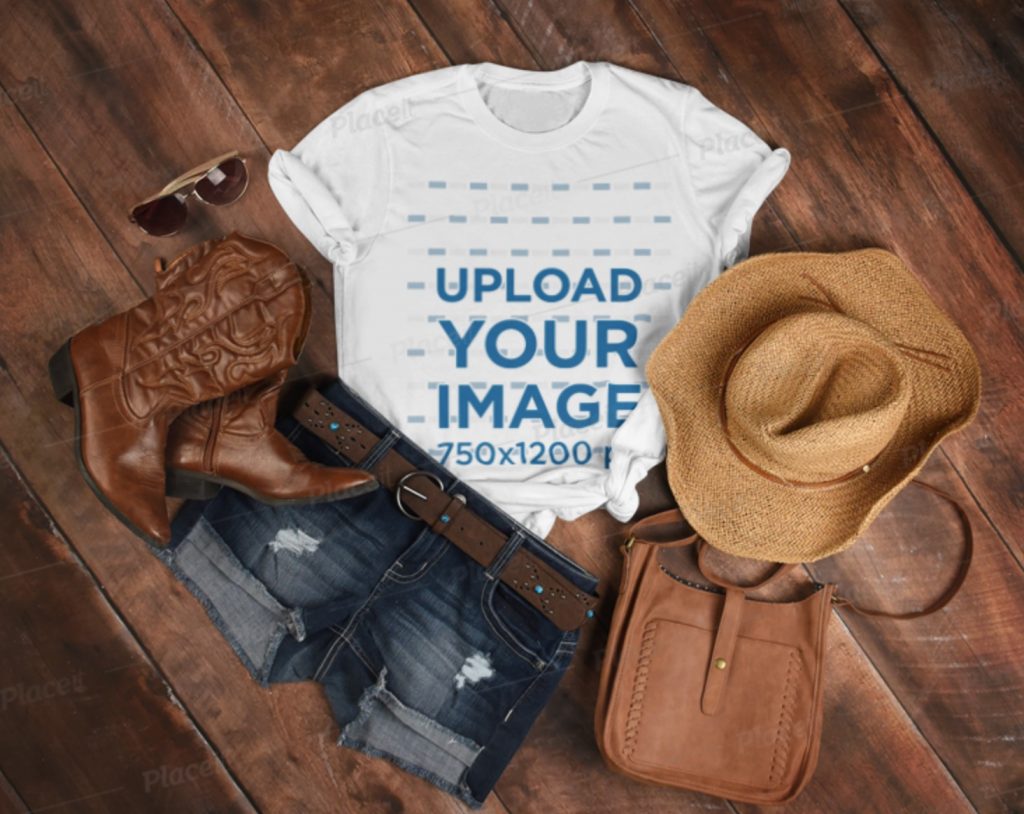 This one is available here.
---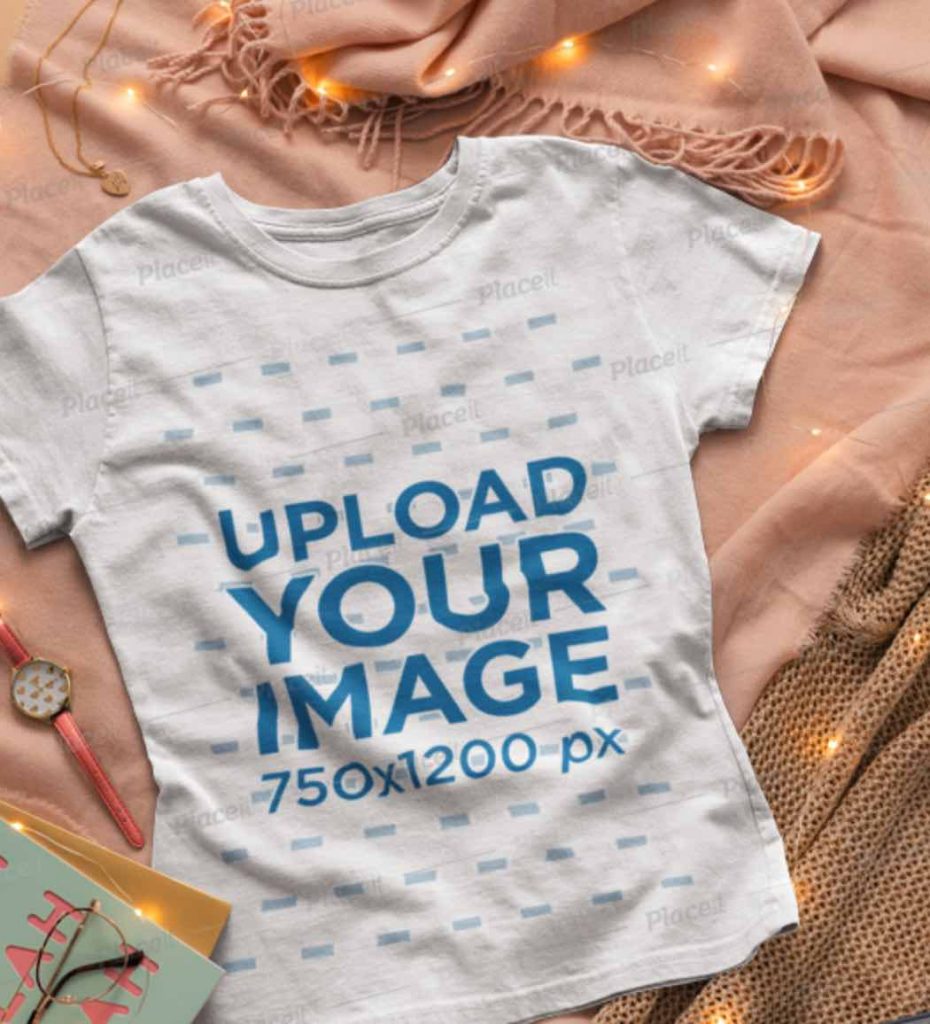 This one is available here.
---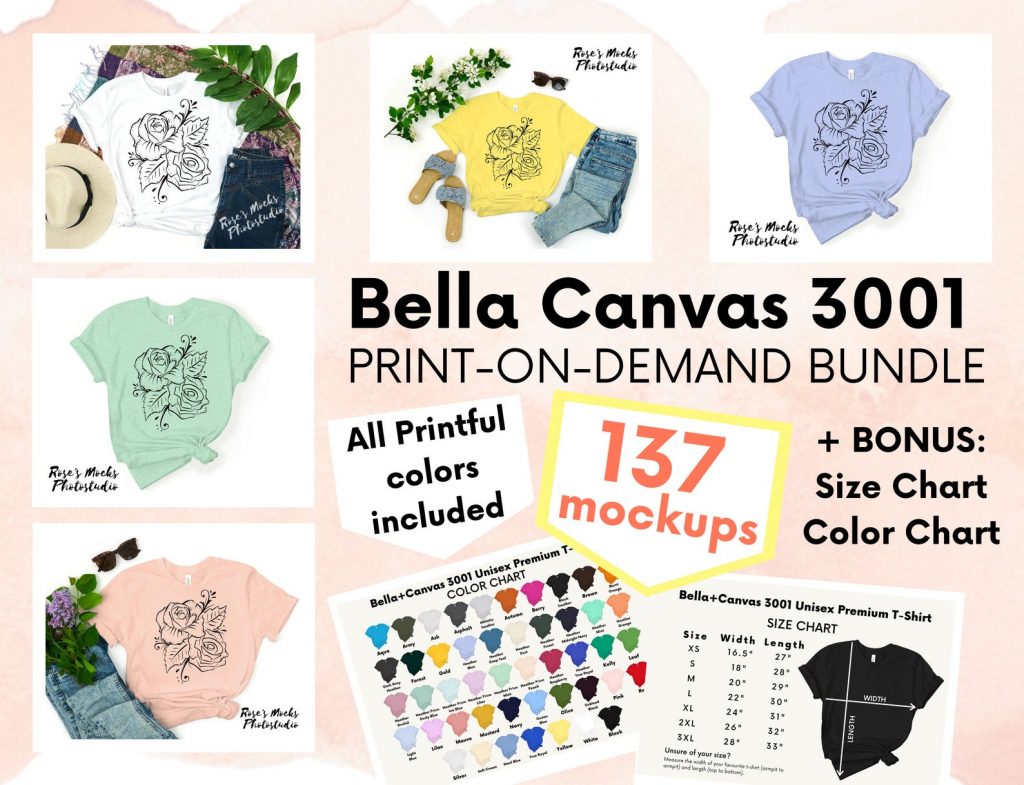 Good value bundle, lots of different colored shirt even includes a size guide and color chart for you to use. Get it here.
---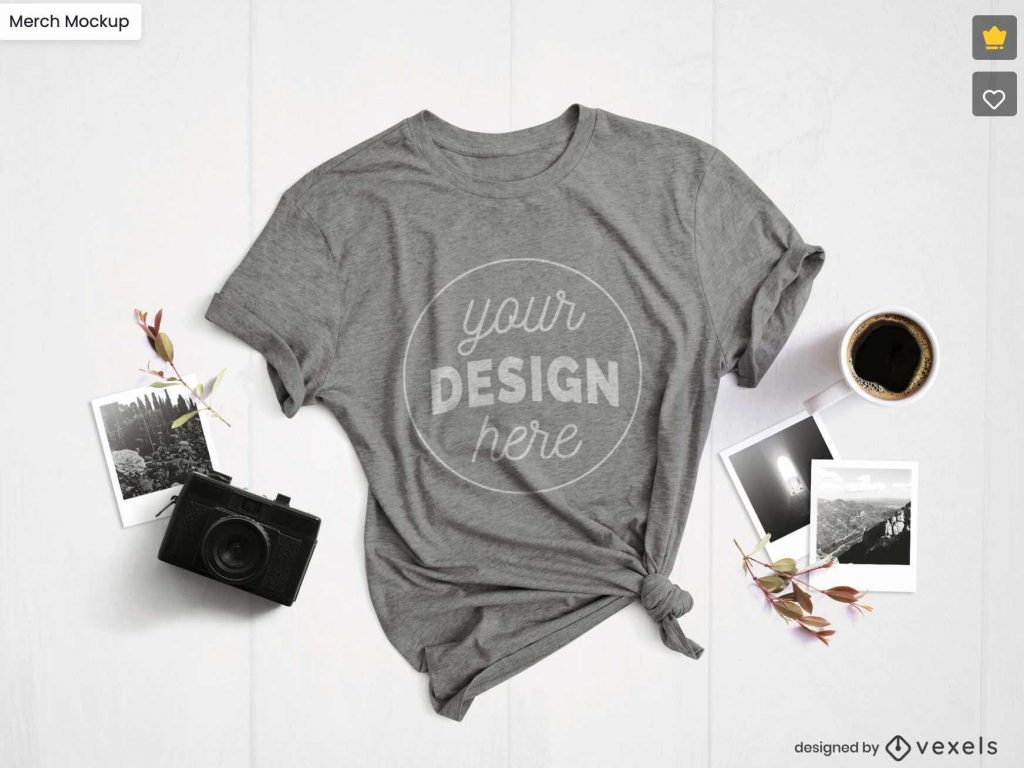 Great for photography based design. Available here.
---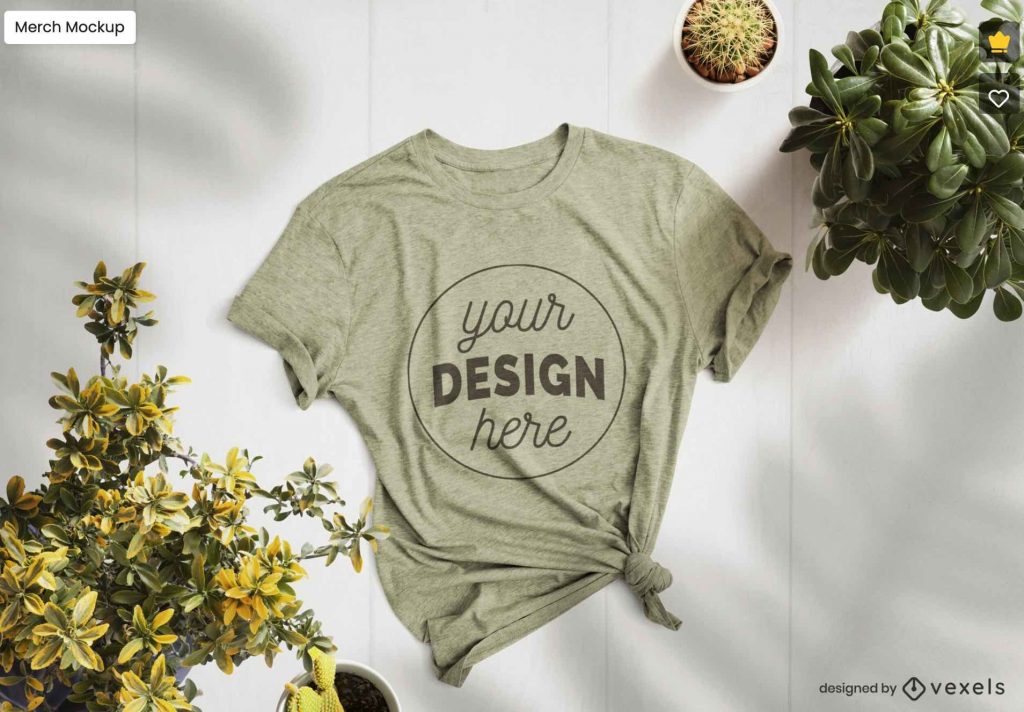 This t-shirt mockup is available here.
---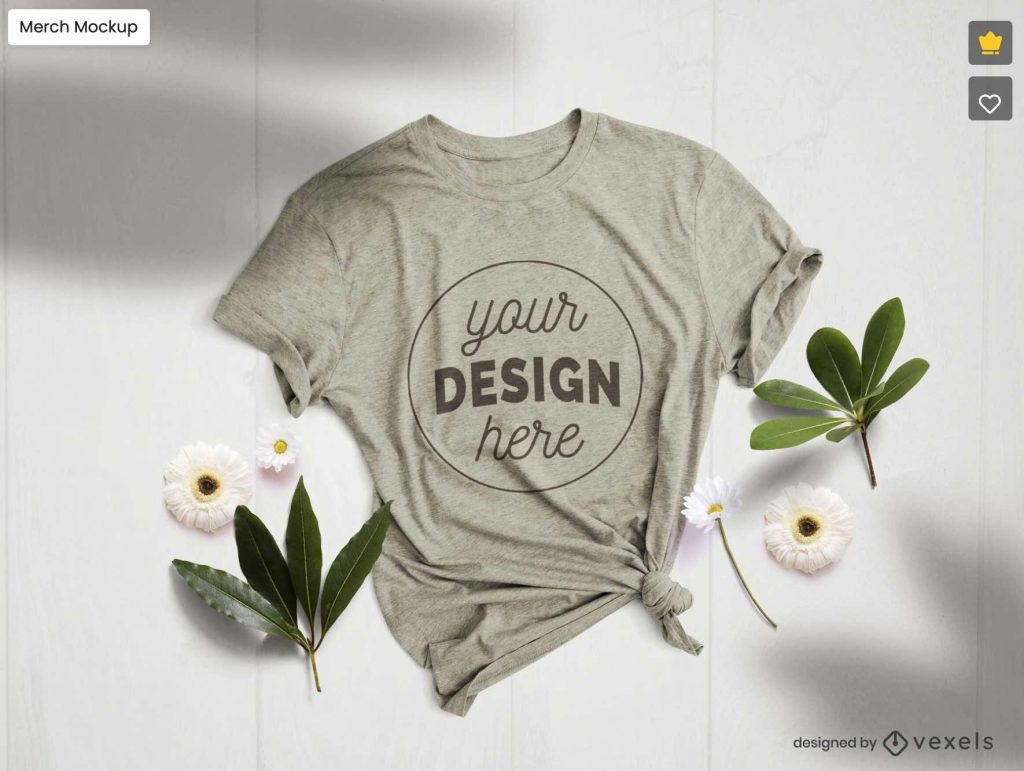 Get this one here.
---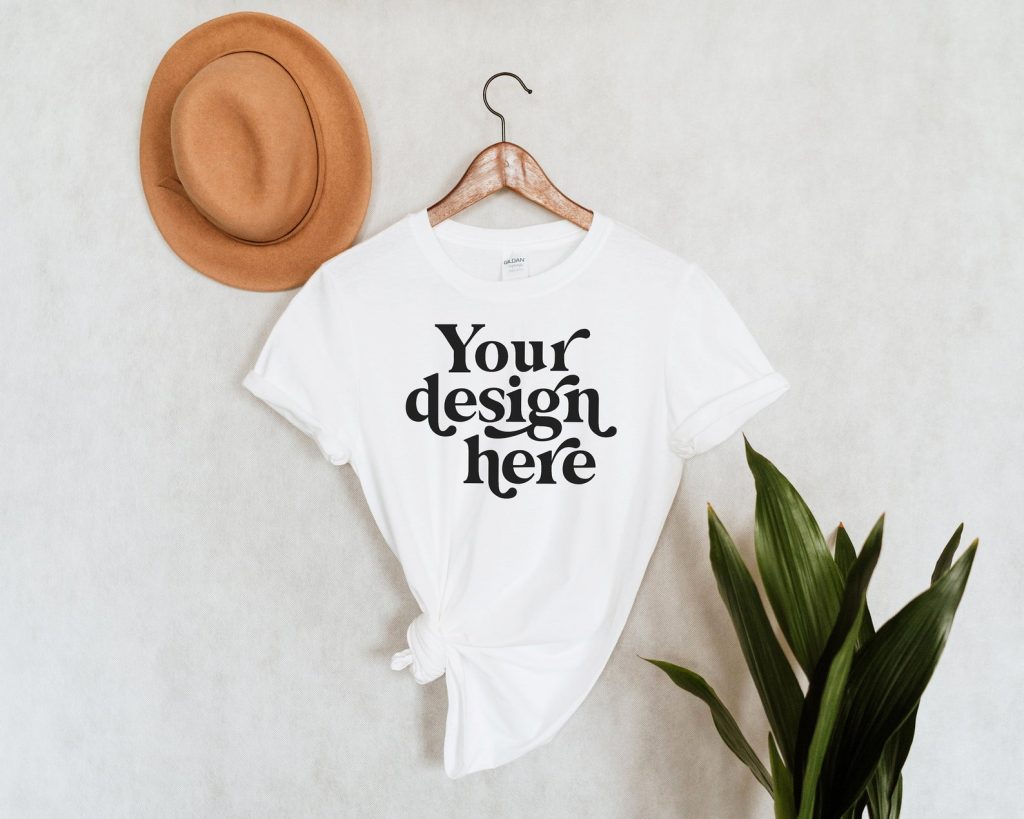 Another one from a small Etsy seller. Get it here.
---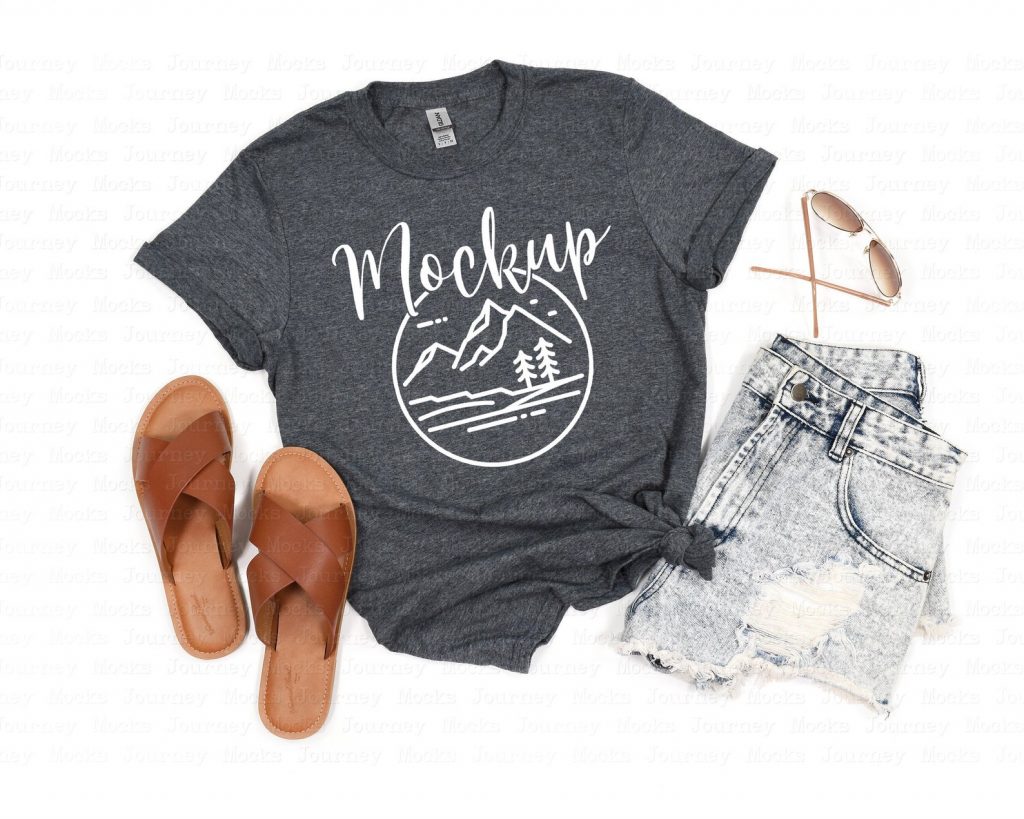 This one is available here.
---
Dead-set on using people mockups? Here's a few that I like.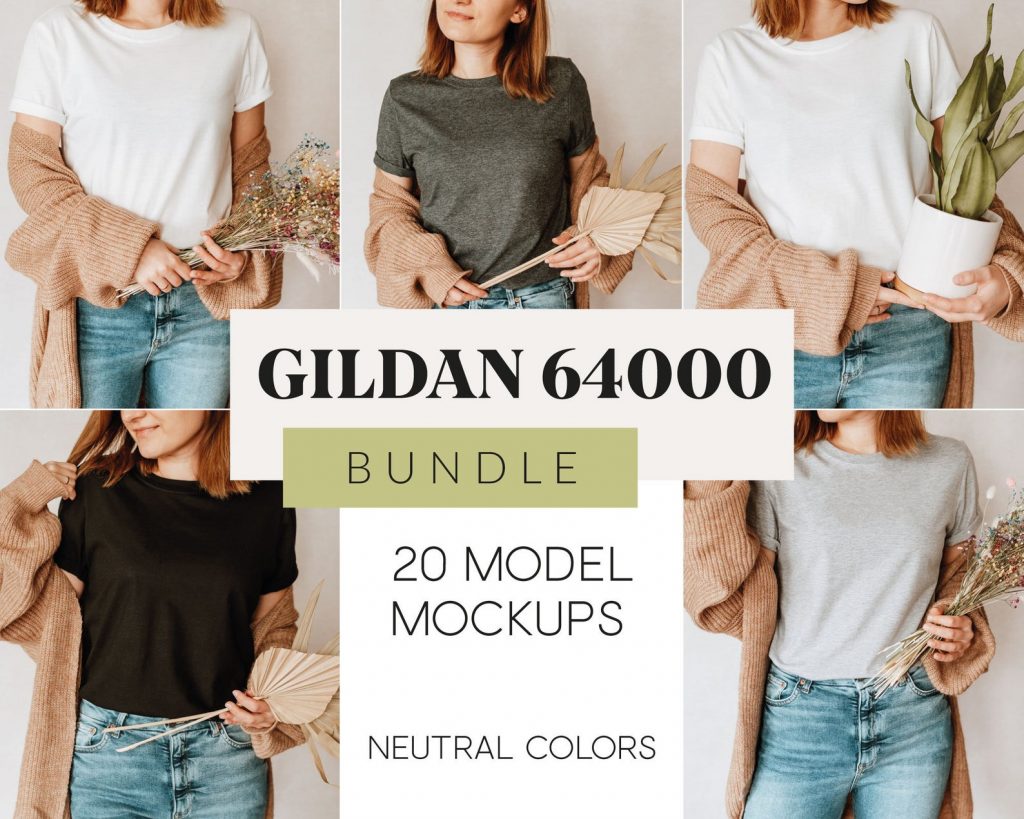 A good selection of modelled shirt mockups, while still focusing on the shirt. Available here.
---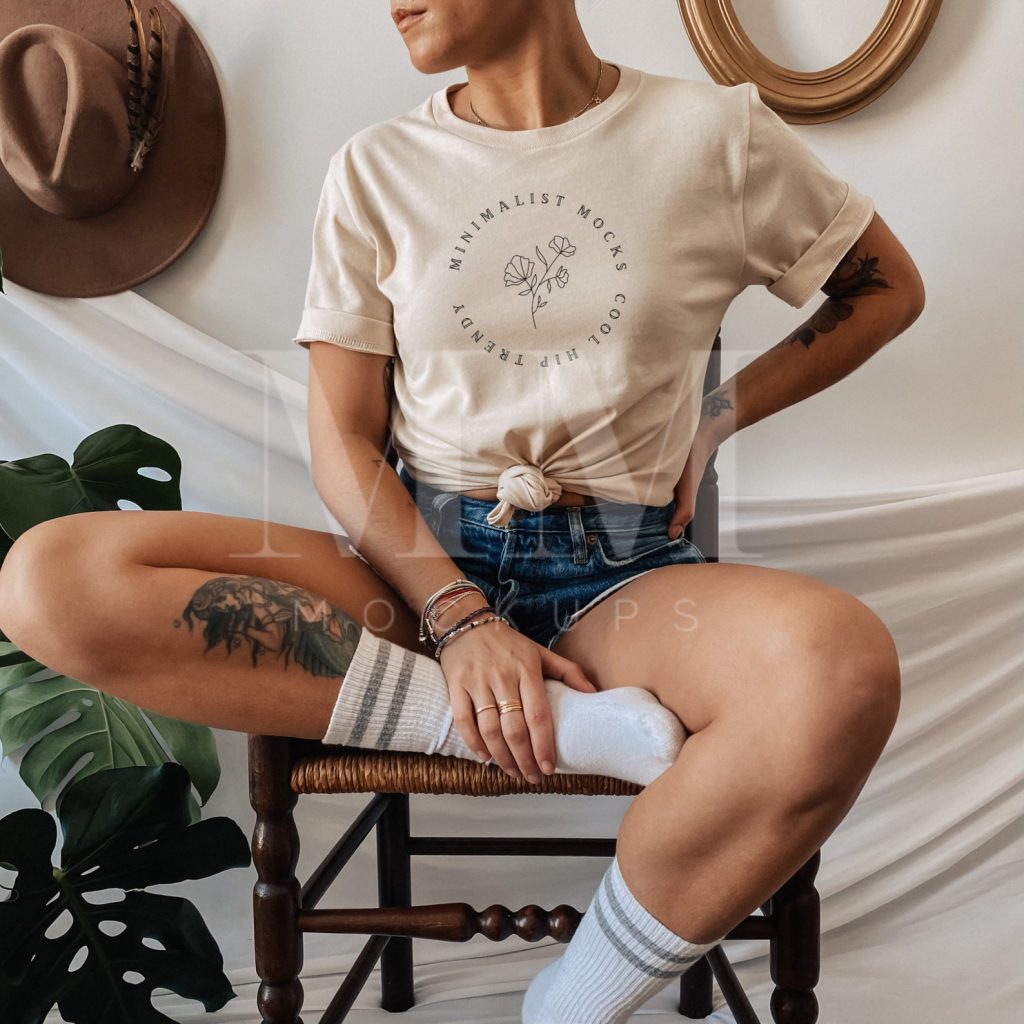 Available here.
---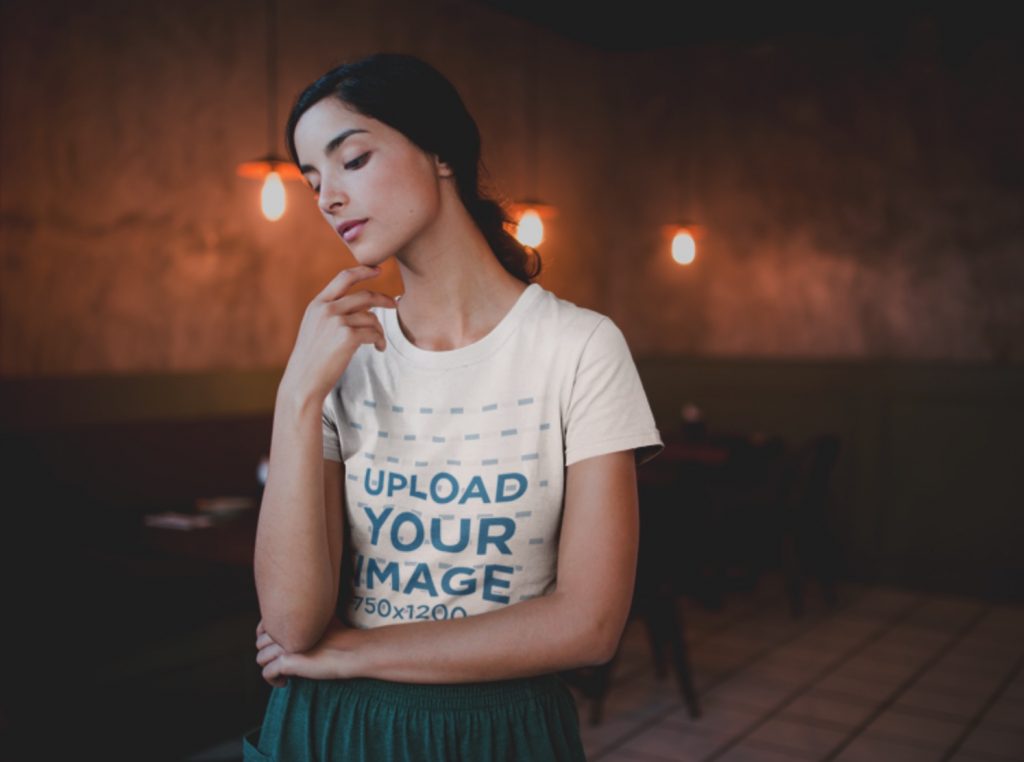 Get this one here.
---
Best Sweatshirt Mockups for Etsy
Same as with shirt, I would also stick to non modelled photos for sweatshirts too. Unless you have a very specific target audience.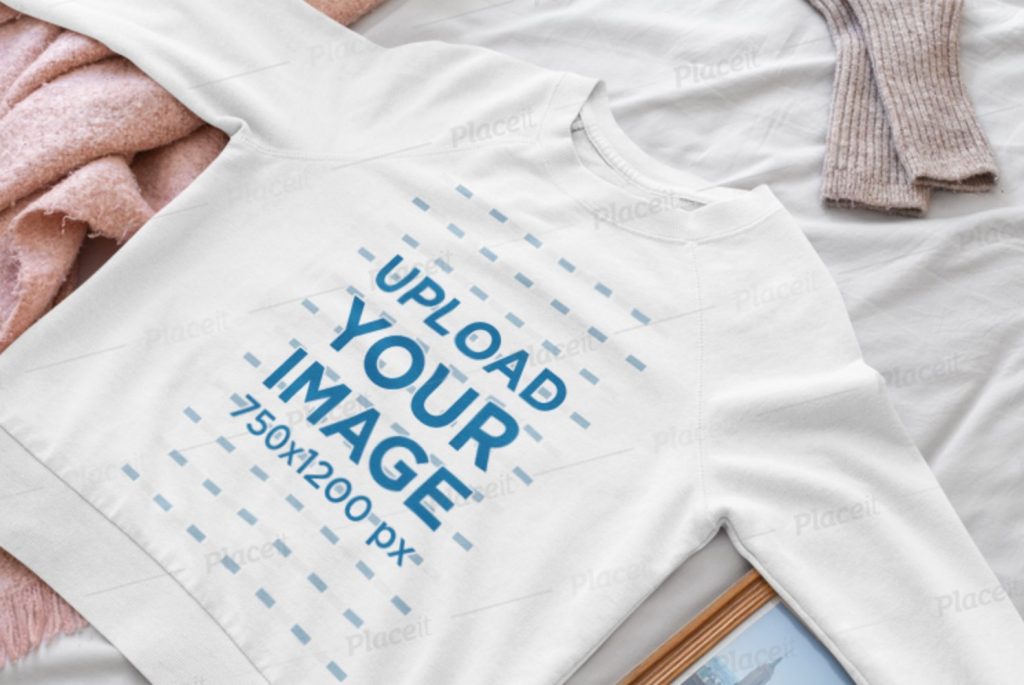 Available here.
---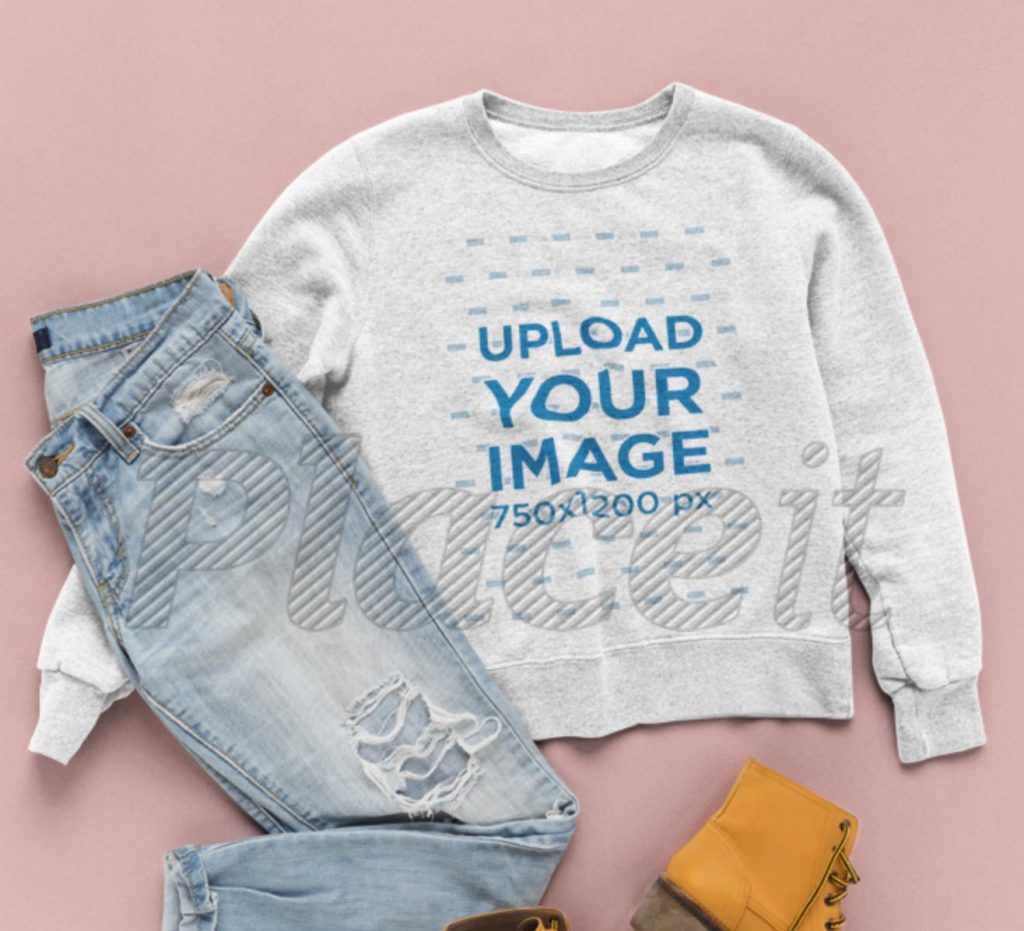 This one is available here.
---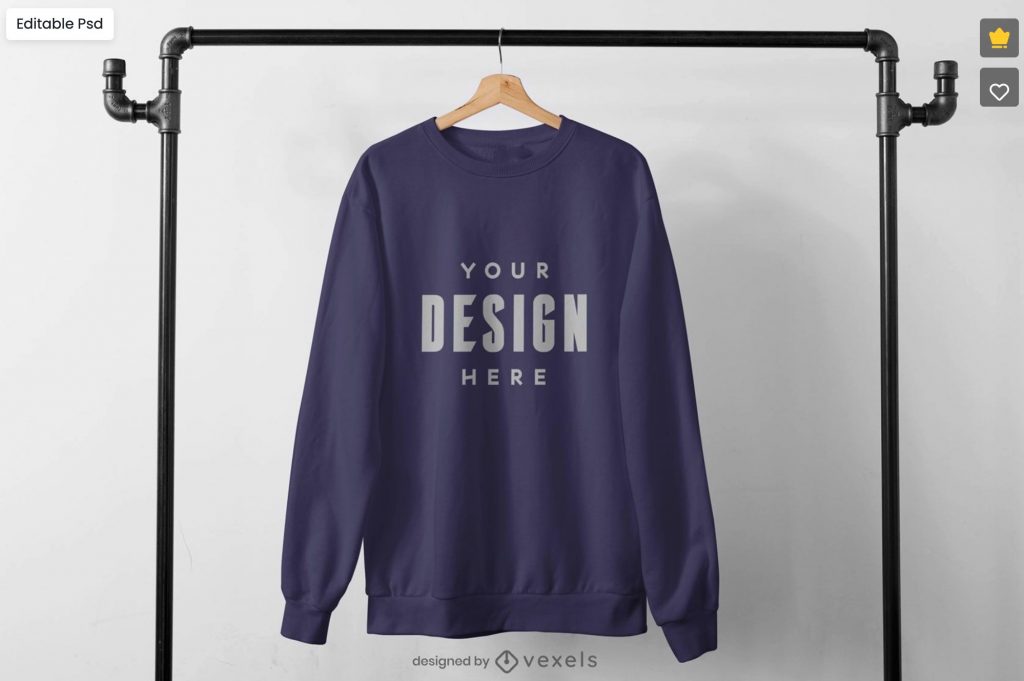 Get this one here.
---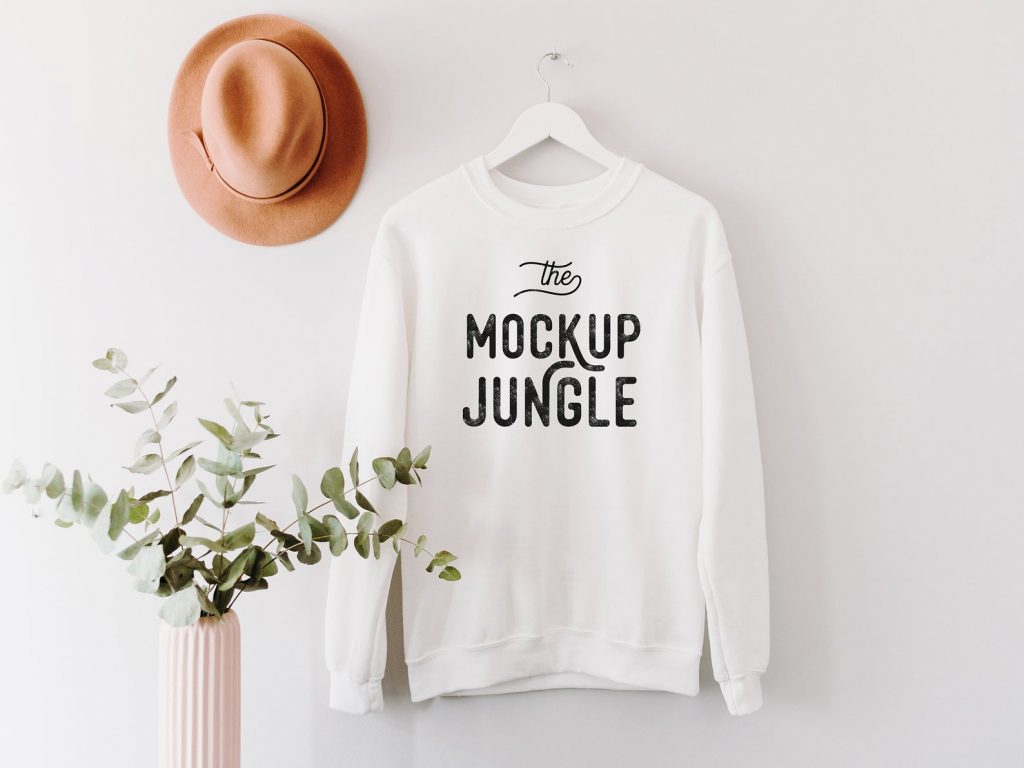 Head here to grab this one.
---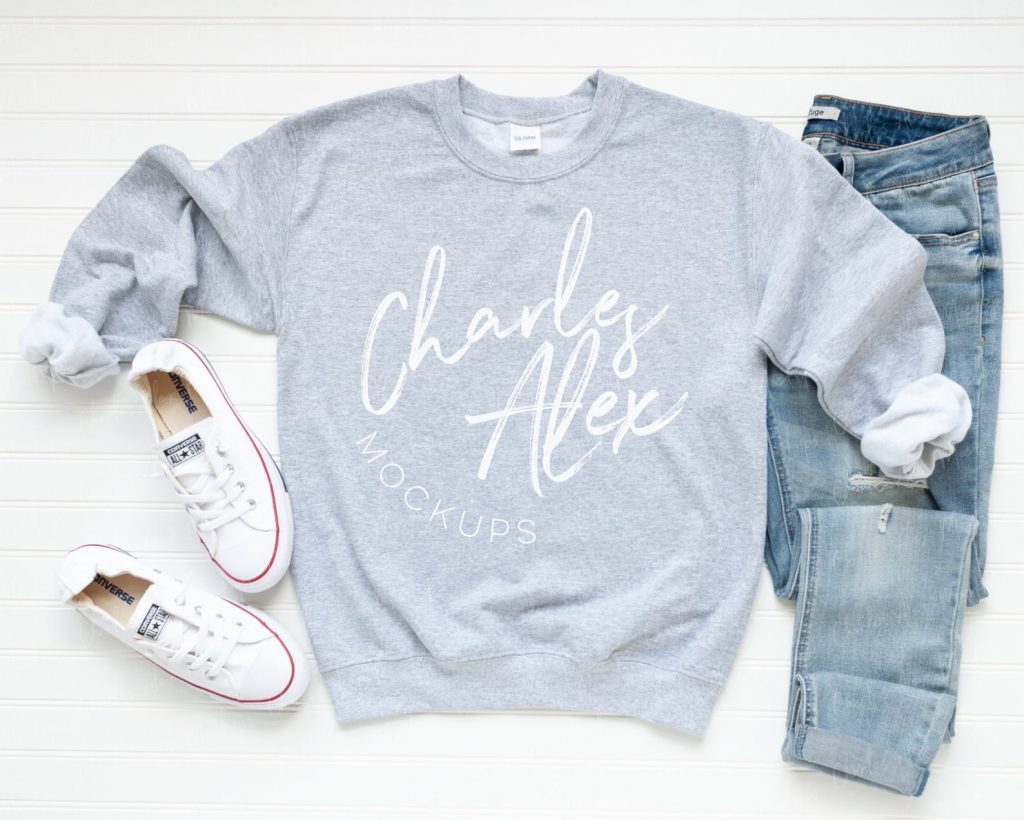 Avliable here.
---
For modelled mockups, here's a couple I like.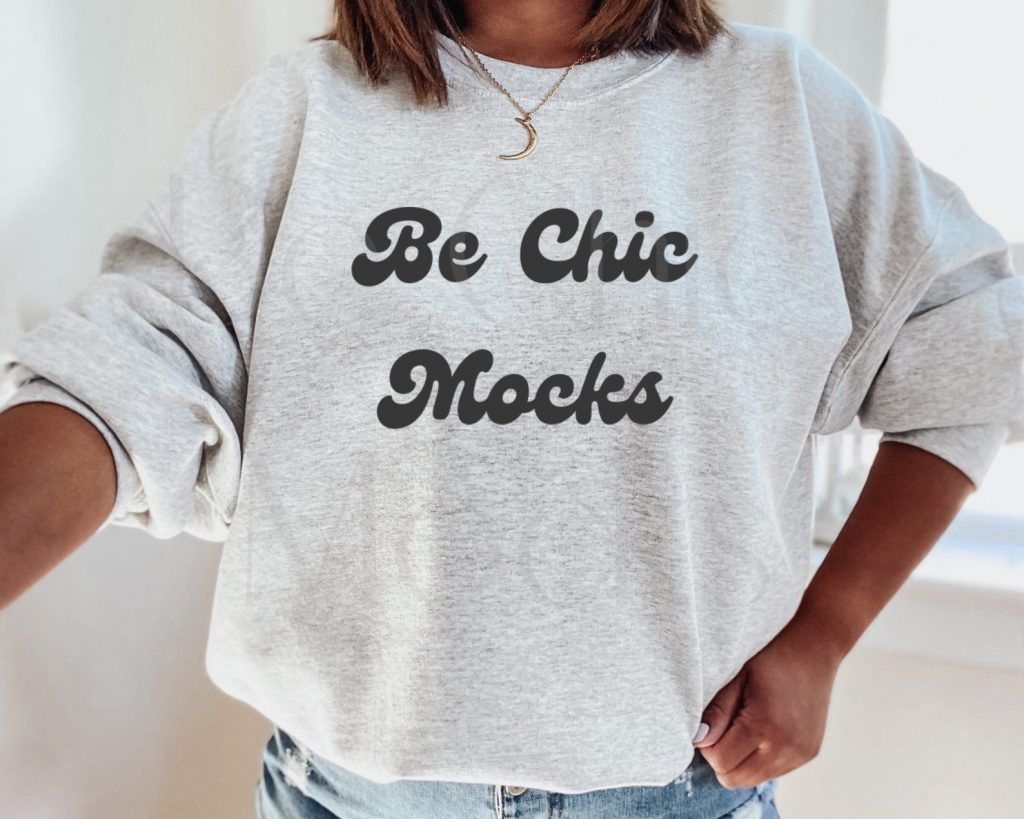 Get this one here.
---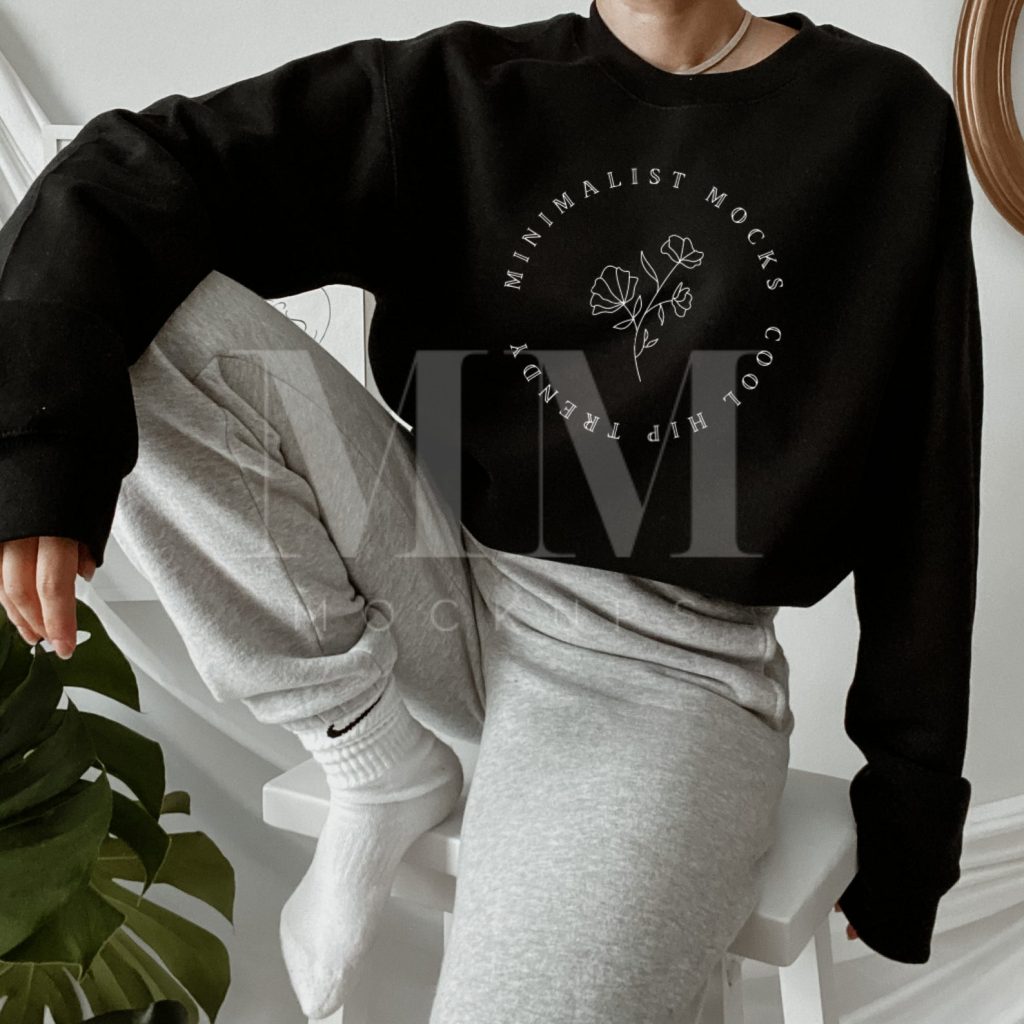 This one can be purchased from here.
---
Best Hoodie Mockups for Etsy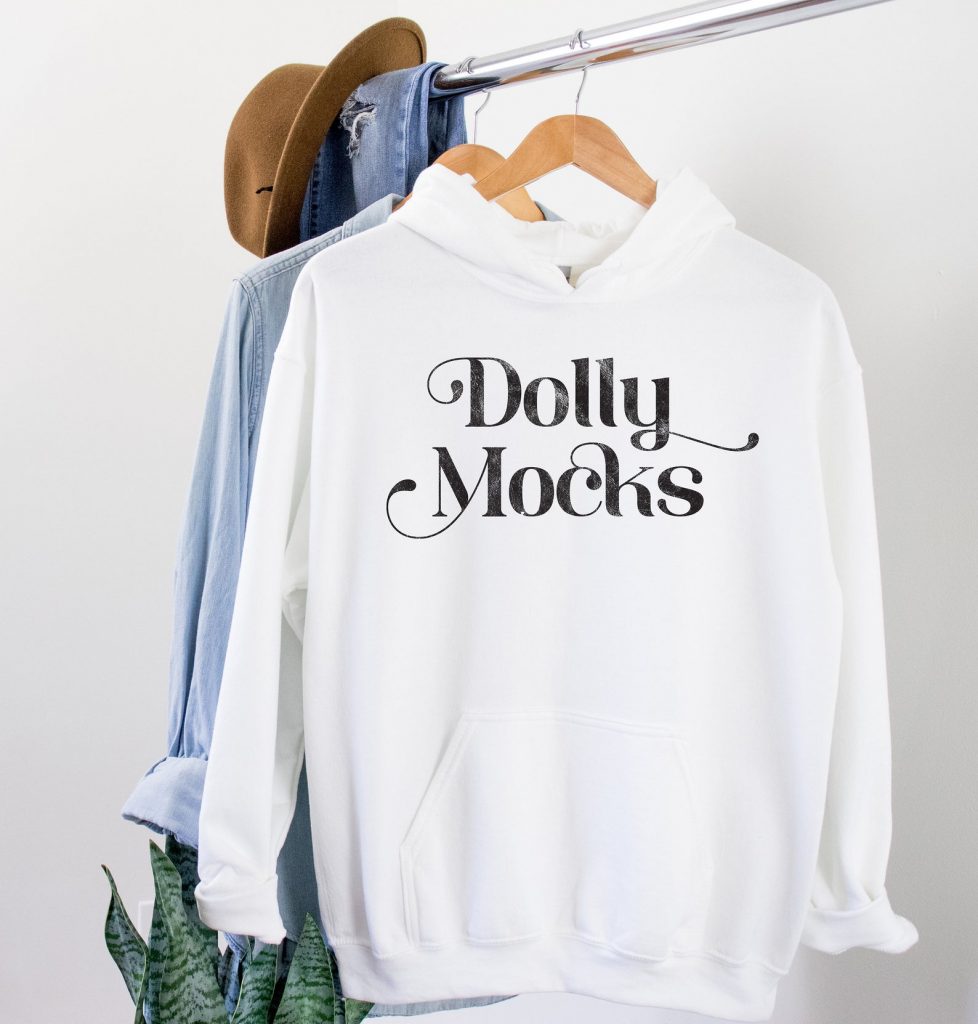 Available here.
---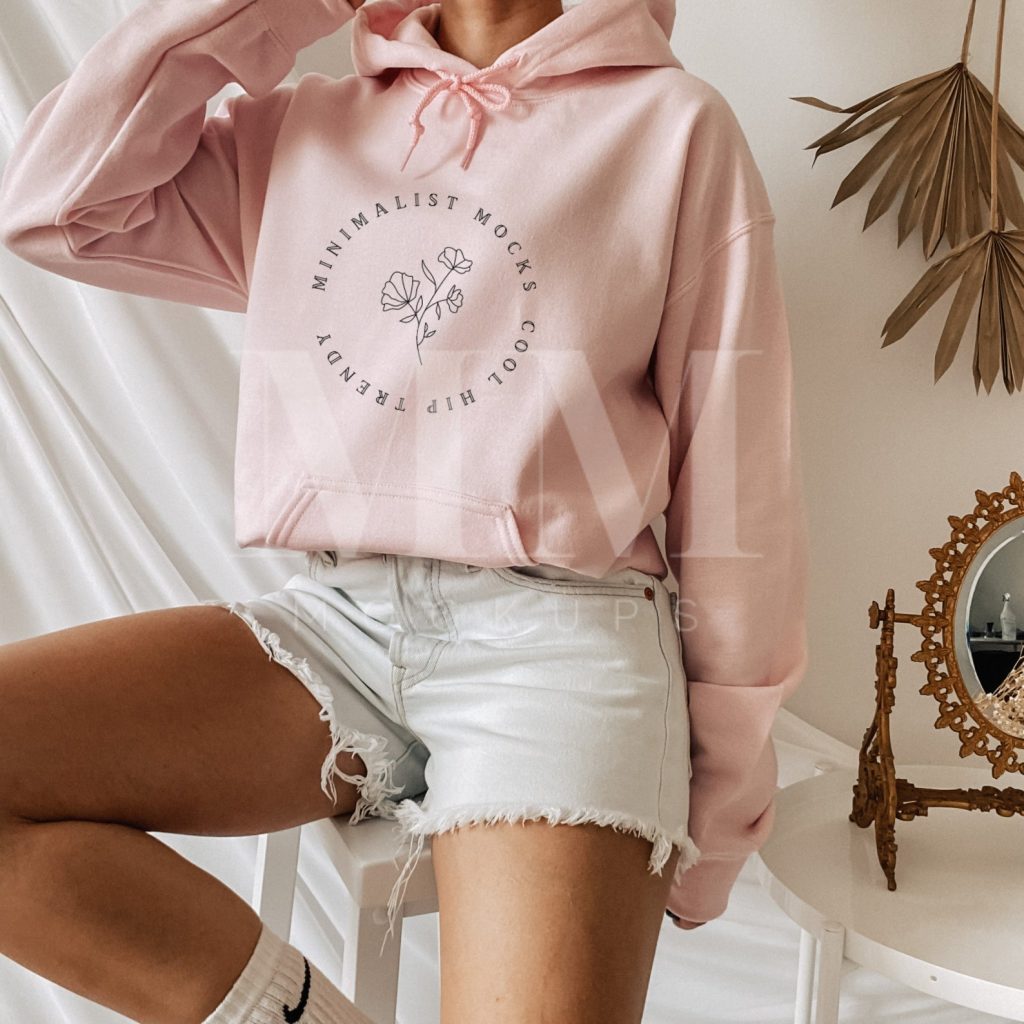 Get this one here.
---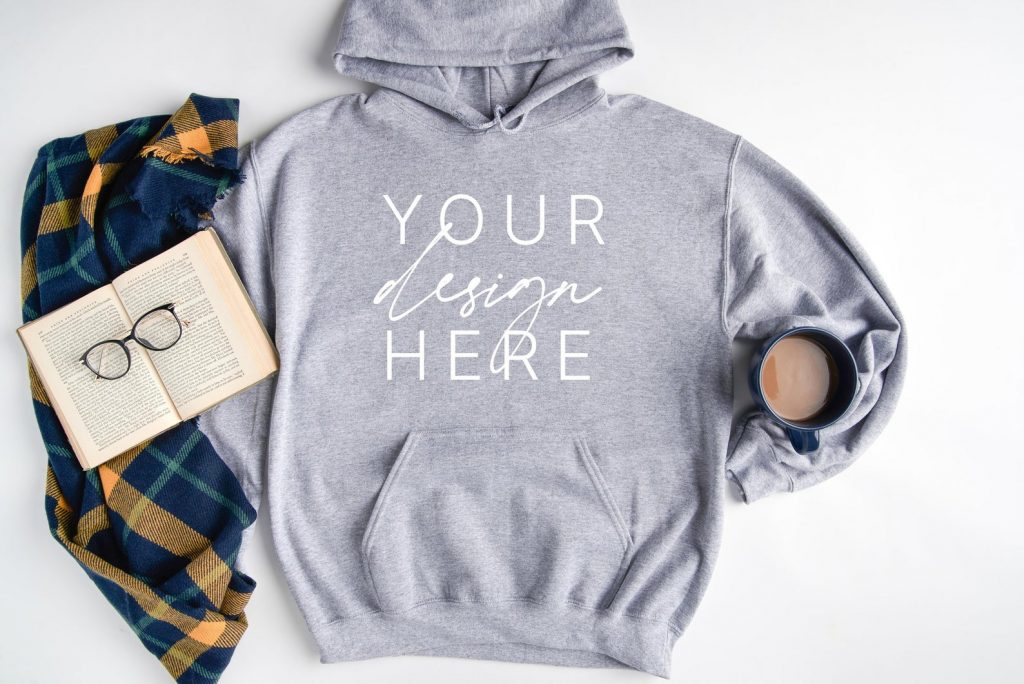 Available here.
---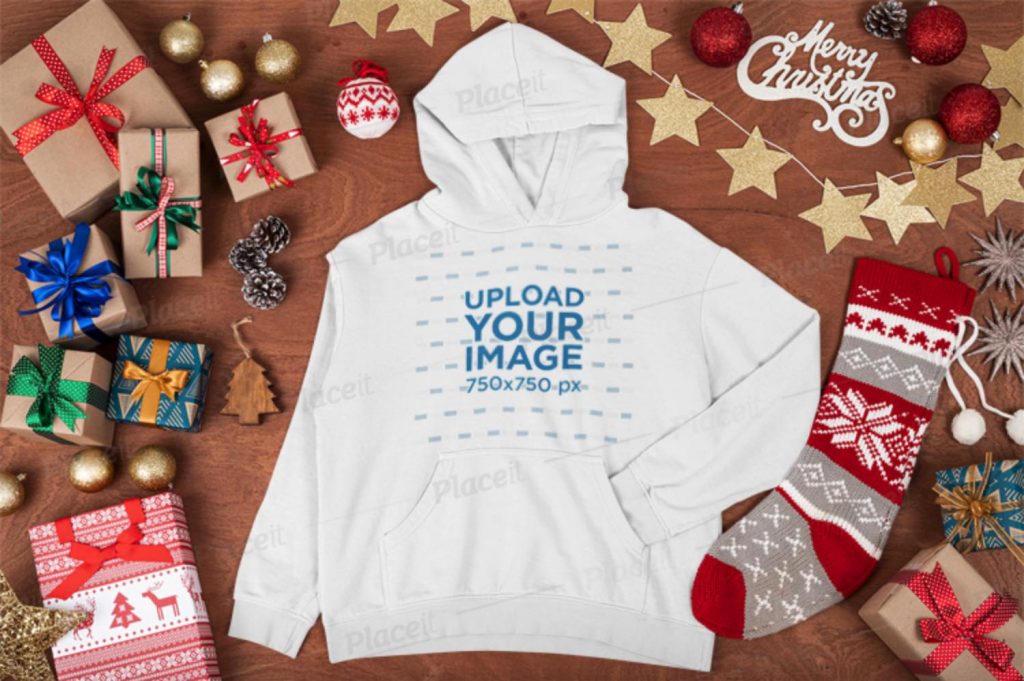 Get this one here.
---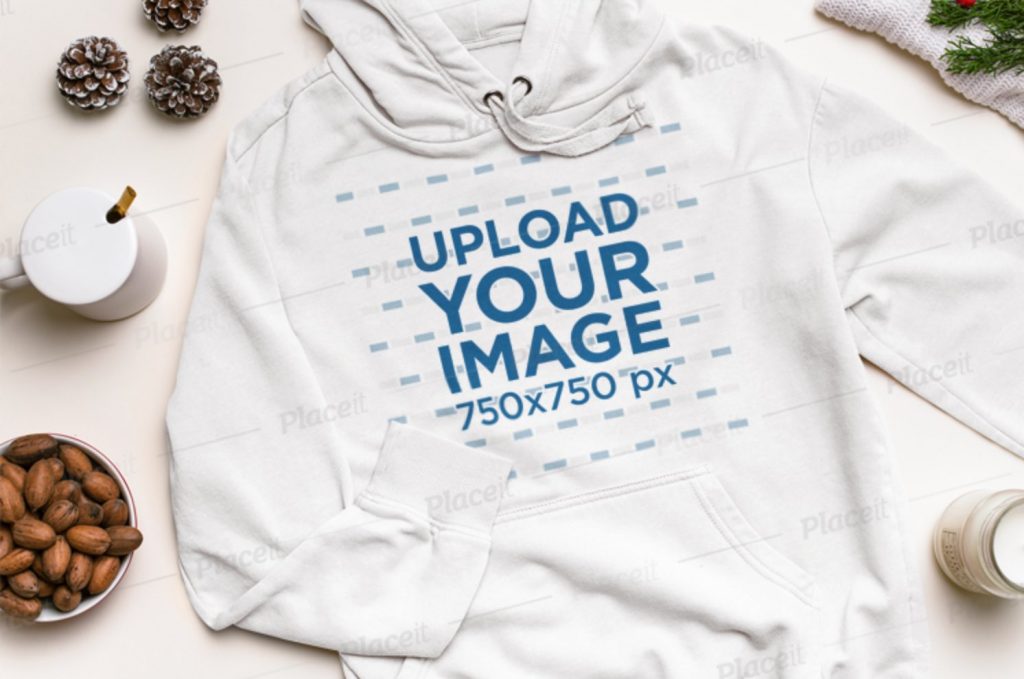 Available here.
---
So this is what I think are the Best Mockups for your Etsy Print on Demand Business.
As you can see, you don't to spend loads of time and money creating professional product imagery for your print on demand Etsy store. You can easily use mockups!
Not only will this increase your sales, but it also makes your store look more professional, and using images similar to the above, also makes your products more sharable.